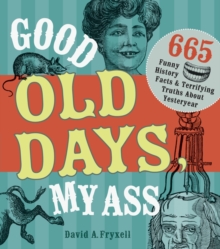 Good Old Days My @$$ : 665 Funny History Facts & Terrifying Truths about Yesteryear
Paperback / softback
Description
Welcome to the Not-So-Glorious Days With the uncertain economy, lingering wars, and the ever-present threats of everything from bird flu to Bieber Fever, it's tempting to long for the "good old days." But just how good were they?
Buckle up for a bumpy ride down memory lane (and try not to get trampled) as these 665 funny history facts and terrifying truths reveal the unfortunate reality of life during the eighteenth, nineteenth and early twentieth centuries.
From patents that should still be pending to hairdos that attract vermin, these horrors will leave you thankful you didn't have to struggle to live through them. Brace yourself as the truth hits you like an ice-cold Victorian-era shower with enough pressure to knock you unconscious.
Get ready to shudder with laughter (or horror) at these funny moments in history that are not to be forgotten.
Information
Format: Paperback / softback
Pages: 224 pages
Publisher: F&W Publications Inc
Publication Date: 07/11/2012
Category: Humour collections & anthologies
ISBN: 9781440322242
Free Home Delivery
on all orders
Pick up orders
from local bookshops