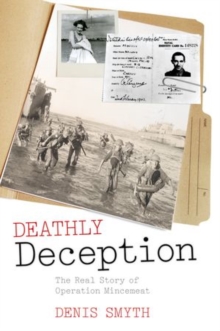 Deathly Deception : The Real Story of Operation Mincemeat
Paperback / softback
Description
Operation Mincemeat retells the story of the classic World War Two intelligence plan to pass misleading strategic information to Hitler and his Generals that was immortalized in the 1956 Hollywood film The Man Who Never Was.
Drawing on a wealth of recently available documentation, Denis Smyth shows how British deceptioneers solved a multitude of medical, technical, and logistical problems to implement their deceptive design.
The aim of their covert plan was to persuade the German High Command that the Allies were going to attack Greece, rather than Sicily in the summer of 1943.
To achieve this, they equipped a dead body with a new military identity as a Royal Marine Major, a new private personality as thefiance of an attractive young woman named 'Pam', and a government briefcase containing deceptive documents.
They then planted the corpse in south-western Spanish coastal waters via a stealthy submarine operation, and carefully monitored (through their codebreakers and spies) how the Nazi intelligence servicesand their warlords proceeded to 'swallow Mincemeat whole'.
The result was a stunning success. The German mis-deployment of their forces to meet the notional Anglo-American threat to Greece materially contributed to the Allied victory in Sicily - which, in its turn, drove Mussolini from power in Italy and inflicted irreparable damage on the German war effort.
Information
Format: Paperback / softback
Pages: 398 pages, 8pp black and white plates
Publisher: Oxford University Press
Publication Date: 04/08/2011
Category: True war & combat stories
ISBN: 9780199605989
Free Home Delivery
on all orders
Pick up orders
from local bookshops