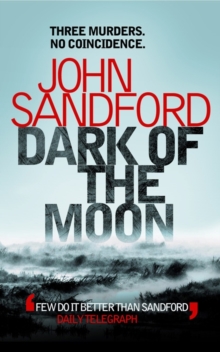 Dark of the Moon
Paperback
Description
First the Army, then the military police, Virgil Flowers had kicked around for a while before Lucas Davenport recruited him to the Minnesota Bureau of Criminal Apprehension, promising him ""We'll only give you the hard stuff"".
He'd been doing the hard stuff for three years now - but never anything like this.
In the small town of Bluestem, where everybody knows everybody, a house way up on a ridge explodes into flames, its elderly owner trapped inside.
Following up rumours of financial scams plus some very dodgy activities with other men's wives, Flowers discovers several reasons why the victim was so hated. And that wasn't even the reason why he'd come to Bluestem.
Three weeks before, there'd been another murder, two in fact - a doctor and his wife; the doctor found propped up in his own backyard, both eyes shot out.
There hadn't been a murder in Bluestem in years, and now suddenly three?
Flowers knows two things: This isn't a coincidence, and this has to be personal.
But just how personal, Flowers might not find out until too late. Because the next victim ... might be himself.
Information
Format: Paperback
Pages: 448 pages
Publisher: Simon & Schuster Ltd
Publication Date: 01/09/2008
Category: Thriller / suspense
ISBN: 9781847391858
Free Home Delivery
on all orders
Pick up orders
from local bookshops
Reviews
Showing 1 - 2 of 2 reviews.
Review by SonicQuack
16/06/2015
An offshoot from the 'Prey' series of books sees Virgil Flowers, another member of the BCA, become embroiled in a series of murders outside the Twin Cities. Sandford creates a distinctly different lead character from that of Lucas Davenport, although his signature writing style is still prevalent. There are moments of amusement, well though out action sequences and plenty of misdirection to keep readers guessing. That said, the myriad of characters involved requires series attention to keep on top of the thought processes of Flowers as he deciphers the clues and conversations around him. The overall likeability of the characters and narrative style make up for the convoluted plot, and as a result Dark of the Moon is a welcome diversion to the Prey series, although not (yet) as captivating.
Review by DragonFreak
16/06/2015
 In the little town of Bluestem, things seem peaceful. This is a town where everybody knows each other and what they are doing at all times. But the horrific murder of Bill Judd Sr. uproots the whole town. His death was caused by a fire in his house and he went down with him. Judd wasn't very popular, in fact, ever since the infamous Jerusalem Artichoke Scam, people hated him. It almost seemed inevitable that he'll be killed.Virgil Flowers, part of the BCA, was called in to solve this murder. It seemed like a simple "Who Done It" case, but again there was another murder. Two actually, a couple about Judd's age, the Gleasons. Now the case is stranger and gets more personal. Virgil realizes that these murders aren't some random thrill-seeking kills, they're something more, much more. This didn't start with the scam, no, this started 30-40 years ago because of Judd's actions, and the lives it will affect will be far great.Truth be told, I thought this book was pretty darn good. The plot is complicated, maybe a little too unnecessarily complicated at times, but overall, very good. Recommended.<b>Rating: Four Stars ****</b>