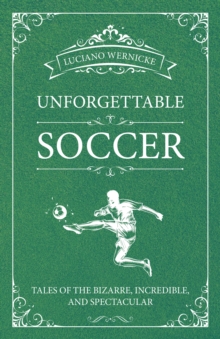 Unforgettable Soccer : Tales of the Bizarre, Incredible, and Spectacular
Paperback / softback
Description
Unforgettable Soccer is a fun book about soccer. Rather than putting the magnifying glass on great champions and memorable matches, it instead examines the more obscure tales from soccer, rescuing incredible feats and masterful mistakes from oblivion-incredible feats such as the soccer player who scored all four goals in a game that ended 2-2. Or crazy stories about a Danish referee who stopped a match to look for the dentures he had lost.
The reader will even find a story about a defender who was reprimanded even though he was already dead!
Within these pages are entertaining stories that will seem almost too unbelievable to be true.
Written in a fun and light manner, Unforgettable Soccer tells the soccer stories that should be told, making it a must-have for every soccer fan. of the nature of transition in the ever-evolving game and as a teaching tool to help their teams dominate on both sides of the ball!
Free Home Delivery
on all orders
Pick up orders
from local bookshops