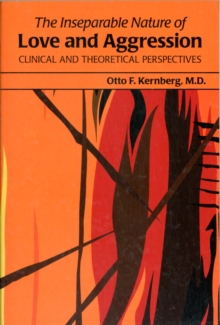 The Inseparable Nature of Love and Aggression : Clinical and Theoretical Perspectives
Paperback / softback
Description
Otto Kernberg is a towering figure in the field of psychoanalysis and has accomplished seminal work in object relations and the treatment of borderline and narcissistic patients.
This volume collects his recent work in several areas: severe personality disorders, couples in conflict, and religious experience.
In each area, he explores the relationship between the psychoanalytic, clinical psychiatric, and neurobiological approaches, yielding insights and analysis that are compelling, thought-provoking, and at times startling in their penetrating brilliance.
In addition, the book addresses the challenges that psychoanalysis faces in the current medical environment, and the need to strengthen its ties with academic institutions.
Beautifully written, the book is designed to both provoke questions and provide enlightenment on a variety of critical issues within psychotherapy.
Specifically, the volume: Explores new approaches to diagnosis and new psychotherapeutic techniques to treat the most severe personality disorders, particularly severe narcissistic psychopathology, based on new research findings; Relates psychoanalytic theory to neurobiological findings by illuminating the influences of neurobiological structures and intrapsychic conflicts on the development of the personality; Examines the psychoanalytic and neurobiological underpinnings of sexual love, from the organization of brain structures and neurotransmitters to the overall systems of erotic activation, attachment and bonding.
This systematic approach provides insight into the nature of passionate love and the psychodynamic features of the love relationship; Addresses psychodynamic factors in the religious experience and the search for universal ethical values, and explores the crucial function of religious experience in dealing with the ideological challenges of social life; and Identifies the serious problems facing psychoanalytic education, institutions, and the profession of psychoanalysis, and proposes solutions to energize the field and increase its contributions to scientific research and progress.
In The Inseparable Nature of Love and Aggression: Clinical and Theoretical Perspectives, Kernberg demonstrates his belief that the collaboration of psychoanalysis and neurobiology has the potential to significantly advance our understanding of the human mind.
The full spectrum of mental health clinicians, as well as educated general readers, will find this to be a work of creativity and substance.
Information
Format: Paperback / softback
Pages: 420 pages
Publisher: American Psychiatric Association Publishing
Publication Date: 27/09/2011
Category: Psychiatry
ISBN: 9781585624287
Free Home Delivery
on all orders
Pick up orders
from local bookshops