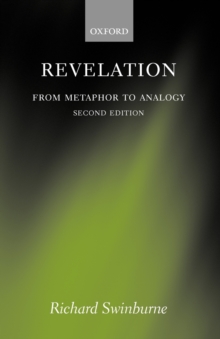 Revelation : From Metaphor to Analogy
Paperback / softback
Description
The great religions often claim that their books or creeds contain truths revealed by God.
How could we know that they do? In the second edition of Revelation, renowned philosopher of religion Richard Swinburne addresses this central question.
But since the books of great religions often contain much poetry and parable, Swinburne begins by investigating how eternal truth can be conveyed in unfamiliar genres, by analogy and metaphor, within falsepresuppositions about science and history.
In the final part of the book, Swinburne then applies the results of Parts I and II to assessing the evidence that the teaching of the Christian Church constitutes a revelation from God.
In the course of his philosophical exploration, Swinburne considers how the church which Jesus founded is to be identified today and presents a sustained discussion of which passages in the Bible should be understood literally and which should be understood metaphorically.
This is a fuller and entirely rewritten second edition of Revelation, the most notable new feature of which is a long chapter examining whether traditional Christian claims about personal morality (divorce, homosexuality, abortion, etc.) can be regarded as revealed truths.
A formal appendix shows how the structure of evidence supporting the Christian revelation can be articulated in terms of the probability calculus (and shows that Plantinga's well-known argument from 'dwindlingprobabilities' against probabilistic arguments of this kind is not cogent).
Information
Format: Paperback / softback
Pages: 384 pages
Publisher: Oxford University Press
Publication Date: 26/07/2007
Category: Christian theology
ISBN: 9780199212477
Free Home Delivery
on all orders
Pick up orders
from local bookshops