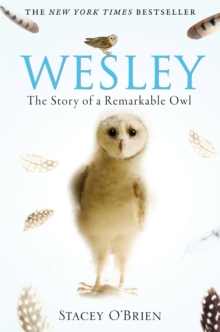 Wesley : The Story of a Remarkable Owl
Paperback
Description
On Valentine's Day 1985, biologist Stacey O'Brien met a four-day-old baby barn owl - a fateful encounter that would turn into an astonishing 19-year saga.
With nerve damage in one wing, the owlet had no hope of surviving on his own in the wild.
O'Brien, then a young assistant in the owl laboratory at Caltech, was immediately smitten, promising to care for the helpless owlet and give him a permanent home.
Wesley is the funny, poignant story of their dramatic two decades together.As Wesley grew, O'Brien snapped photos of him at every stage, recording his life from a helpless ball of fuzz to a playful, clumsy adolescent to a gorgeous, gold-and-white, adult owl with a heart-shaped face and an outsize personality that belied his 18-inch stature.
When O'Brien develops her own life-threatening illness, the biologist who saved the life of a helpless baby bird is herself rescued from death by the insistent love and courage of this wild animal.Wesley is a thoroughly engaging, heart-warming, often funny story of a complex, emotional, non-human being capable of reason, play, and, most important, love and loyalty.
Information
Format: Paperback
Pages: 240 pages, B&W photos throughout
Publisher: Little, Brown Book Group
Publication Date: 20/09/2007
Category: Memoirs
ISBN: 9781849010580
Free Home Delivery
on all orders
Pick up orders
from local bookshops
Reviews
Showing 1 - 2 of 2 reviews.
Review by elliepotten
16/06/2015
I am a huge barn owl fan, so I knew I had to buy this book as soon as I saw it! I've already adopted a barn owl called Gilbert from the National Falconry School, and see him most weekends at their display outside our bookshop (and yes, I do talk to him!), so a whole book about someone who raised a barn owl from a baby sounded wonderful! Stacey O'Brien's life changed forever the day she was given the opportunity to adopt a baby barn owl from Caltech's owl research department, where she had been working for about a year. The owl was only four days old, looked a bit like a baby dinosaur and hadn't even opened its eyes yet, but she fell head over heels in love and agreed to take it home. Although Wesley had an injured wing and could never be released into the wild, he settled right into life with his new mum. This is their story...Wesley is a wonderful character, and the intense bond between human and owl shines out from every page. I giggled at so many of O'Brien's stories - of Wesley's first attempts to fly and his outrage when she dares to laugh at his tangled crash-landings, of his unprecedented love for water (which gets particularly interesting when he decides he wants to <i>share</i> her bath), of his attempts to woo her by building her nests and trying to feed her mice - and teared up a few times too. O'Brien really knows her stuff, so on top of the Wesley's story there is a whole lot of interesting information about owls, as well as a few wider titbits from the natural sciences as a whole and a tantalising insight into what it's like to work for a big research institute like Caltech. Wesley and Stacey learned a lot from each other over the nineteen years they spent together, and their close partnership helped bring about a new understanding of elements of barn owl life that had never been accessible before. It is a charming, heartwarming and amusing story, as well as an informative look at the world of the barn owl, and it might just be one of my favourite books this year!
Review by BiZMamma
16/06/2015
Sugar-sweet. That is why I really couldn't give Wesley the Owl anything less than four stars. I have always loved birds, and a few times a year, I am awakened by great horned owls, hooting from rooftops in our neighborhood. I also believe that wild animals can make meaningful connections with people, although it is up to us to understand their natural instincts and the limits of safe interaction. This book touches on all of that, and it is a very sweet story. However, there are a few problems: First, while the story is told chronologically, the photographs that are included are not placed within the text in that way. Not necessarily confusing, but a little annoying. Secondly, there are several places in the book where the author relates characteristics and habits that are consistent in owls, and many of these traits she sees in Wesley. Great! Interesting! We get it! But then the author has to say (with the capital letters), over and over and over again, "That is the Way of the Owl." Too much. Finally, if you are going to include vivid descriptions of your owl mating with your arm, over and over and over again, okay, it is part of the story. But then you include a chapter called "S ex Tapes"? And subtitle the book, "The Remarkable Love Story of an Owl and His Girl"? It's a little crazy, and boarders on creepy. Still, it is an interesting, sweet and quick read. Sweet.
Also by Stacey O'Brien