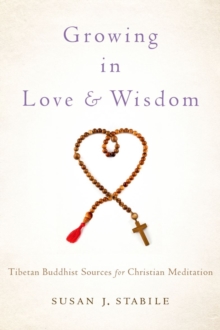 Growing in Love and Wisdom : Tibetan Buddhist Sources for Christian Meditation
Hardback
Description
In Growing in Love and Wisdom, Susan Stabile draws on a unique dual perspective to explore the value of interreligious dialogue, the essential spiritual dynamics that operate across faith traditions, and the many fruitful ways Buddhist meditation practices can deepen Christian prayer.
Raised as a Catholic, Stabile devoted 20 years of her life to practicing Buddhism and was ordained as a Tibetan Buddhist nun before returning to Catholicism in 2001.
She begins the book by examining the values and principles shared by the two faith traditions, focusing on the importance of prayer-particularly contemplative prayer-to both Christianity and Tibetan Buddhism.
Both traditions seek to effect a fundamental transformation in the lives of believers, and both stress the need for experiences that have deep emotional resonance, that go beyond the level of concepts to touch the heart. Stabile illuminates the similarities between Tibetan Buddhist meditations and Christian forms of prayer such as Ignatian Contemplation and Lectio Divina; she explores as well such guided Buddhist practices as Metta and Tonglen, which cultivate compassion and find echoes in Jesus' teachings about loving one's enemies and transcending self-cherishing.
The heart of the book offers 15 Tibetan Buddhist practices adapted to a contemplative Christian perspective.
Stabile provides clear instructions on how to do these meditations as well as helpful commentary on each, explaining its purpose and the relation between the original and her adaptation.
Throughout, she highlights the many remarkably close parallels in the teachings of Jesus and Buddha.
Arguing that engagement between religions offers mutual enrichment and greater understanding of both traditions, Growing in Love and Wisdom shows how Buddhist meditation can be fruitfully joined to Christian prayer.
Information
Format: Hardback
Pages: 272 pages
Publisher: Oxford University Press
Publication Date: 18/10/2012
Category: Comparative religion
ISBN: 9780199862627
Free Home Delivery
on all orders
Pick up orders
from local bookshops