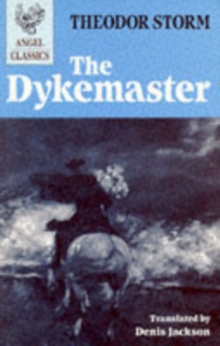 Description
The Dykemaster (1888), is the tale of a legendary young dykemaster at odds with his community.
Innovative and creative, he designs a new form of dyke.
While supervising his work, he rides his grey horse along the dyke.
When he is unwilling to engage in a sacrificial ritual of a dog to celebrate completion of the work, villagers think he is in the hands of evil powers.
The passing of time and tides contributes to this misconception and he becomes a legend, a phantom riding his grey along the dyke whenever the sea threatens to break through.
Storm's highly sophisticated narrative-within-a narrative structure is far in advance of its time.
Denis Jackson's brilliant translation of Der Schimmelreiter recreates the full impact of Theodor Storm's masterpiece, which was totally lacking in previous English versions.
Information
Format: Paperback
Pages: 192 pages, 2M.
Publisher: Angel Books
Publication Date: 01/01/1990
ISBN: 9780946162543
Free Home Delivery
on all orders
Pick up orders
from local bookshops
Reviews
Showing 1 - 2 of 2 reviews.
Review by LizzySiddal
16/06/2015
Theodor Storm (1817-1888) began his career as a lyric poet. He eventually turned to prose and the novella became his preferred medium. His poetic gift lent itself well to the form, enabling him to evoke mood, landscape and character with simple yet lyric majesty. He is the prime artisan of poetic realism.Many of his novella are set in the past yet the tales are often enclosed within the framework of his own contemporary times. This simple yet effective technique enables Storm to explore the often conflicting viewpoints of the narrator with the main characters of his tale, to examine shifting historical perspectives and, ultimately the transcience of life. Der Schimmelreiter (The Dykemaster) is recognised as his masterpiece and is definitely one of the cornerstones of 19th Century German Literature. I have just indulged myself reading the wonderful translation by Denis Jackson, published by Angel Clasics. It's a translation which does justice to Storm's prose - it reads as though it were an original English text.Quoting from the blurb on the cover:"The Dykemaster is a tale of a visionary young north Friesian Deichgraf of the 18th centruy, creator of a new form of dyke. The short-sighted and self-seeking community with which he is at odds turns him into a phantom, seen riding his grey along the dyke whenever the sea threatens to break through. The rationalistic storyteller, in a highly sophisticated narrative structure, belongs to a later age, and what he relates is a veiled critique of the dyke officials of his own day.The eerie west Schleswig-Holstein coast, with its vast, hallucinatory tidal flats, hushed polders and terrifying North Sea, is the setting for a tale which grips from first page to last with its dynamic tensions and shifts of focus, mood and pace. Storm's dense narrative further invites the reader to ask whether progress is possible, how the historical record is established , what parts are played by the rational and the irrational in human existence."All that in just 117 pages! Simply magnificent.
Review by praymont
16/06/2015
This is Denis Jackson's nice translation of Theodor Storm's Der Schimmelreiter (first published in 1888). Storm's novella presents the legend of Hauke Haien as recounted by an old teacher, a `rationalist' who doubts the supernatural elements of the tale. The teacher depicts Hauke as a great innovator whose engineering prowess gave him superior powers over nature, enabling him to design a better dyke to protect the community. The people respond with dark suspicion and rumors that he's in league with the devil. In the teacher's version of the tale, the supposedly supernatural elements figure only ambiguously. So, e.g., there is a seemingly spectral horse, which is sold to Hauke by someone who laughs like `the devil' (p. 72). But nothing much comes of this. In the rest of the story the horse is like a natural, though somewhat wild, horse, one that only Hauke can tame (just as he alone can tame the sea with better dykes). Then there's Trin Jans, who is presented not as a real witch but rather as ... well, as the sort of character who becomes a witch in more fanciful legends. Thus, while the old teacher is aware of the supernatural aspects of the tale, he reigns them in to make them conform to a naturalistic interpretation. The resulting narrative is in places quite eerie. Examples include the narrator's partly anthropomorphic characterization of some birds on the tidal flats (pgs. 22 & 99) and Trin Jans' uncanny story about a mermaid, which actually makes the mermaid seem terrifying, like something more and less than human (p. 98). In both cases the author embeds fragmentary human traits in what are ultimately strange, alien creatures that, like nature itself, efface humanity with a chilly indifference. As an epitome of Freud's account of the uncanny in fiction, the tale charts a mundane landscape suffused with potentially supernatural elements that appear fleetingly in ambiguous forms, never quite surfacing as truly supernatural phenomena but, instead, appearing to be at home in the confines of nature. There is thus an ongoing juxtaposition of the world as (on the one hand) a natural order that fits the technical-scientific templates of reason and (on the other hand) a chaotic abyss from which wild, non-rational forces periodically erupt with cataclysmic effect. These unpredictable forces find their echo in the human psyche. Hauke Haien, a paragon of reason, isn't alert to these destructive elements in his own soul, so he's unaware of how they have eroded his own foundations over the years. Eventually, they catch him totally unawares, welling up from within and casting him into the abyss. Such a psychological reading is pursued in a meticulously Freudian (all too Freudian) direction by Anette Schwarz in her paper, "Social Subjects and Tragic Legacies: The Uncanny in Theodor Storm's Der Schimmelreiter" (The Germanic Review 73.3 [Summer 1998]: 251). Schwarz points out that neither Hauke nor his wife (Elke) has a mother who figures in the narrative, and that Trin Jans stands in symbolically as the mother figure.