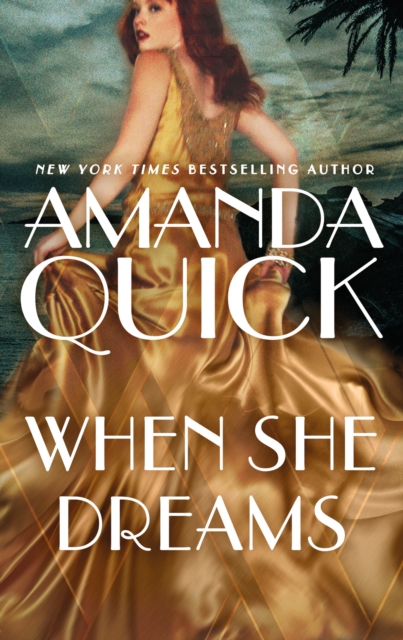 When She Dreams : escape to the glittering, scandalous golden age of 1930s Hollywood
Paperback / softback
Description
'Quick's ambitious novel, set during the golden age of Hollywood, sparkles with wit and clever plotting' Publishers WeeklyReturn to 1930s Burning Cove, California, the glamorous seaside playground for Hollywood stars, mobsters, spies, and a host of others who find more than they bargain for in this mysterious town. Maggie Lodge, assistant to the reclusive advice columnist known only as Dear Aunt Cornelia to her readers, hires down-but-not-quite-out private eye Sam Sage to help track down the person who is blackmailing her employer.
Maggie and Sam are a mismatched pair. As far as Sam is concerned, Maggie is reckless and in over her head.
She is not what he had in mind for a client but he can't afford to be choosy.
Maggie, on the other hand, is convinced that Sam is badly in need of guidance and good advice.
She does not hesitate to give him both. In spite of the verbal fireworks between them, they are fiercely attracted to each other, but each is convinced it would be a mistake to let passion take over.
They are, after all, keeping secrets from each other.
Sam is haunted by his past, which includes a marriage shattered by betrayal and violence.
Maggie is troubled by intense and vivid dreams-dreams that she can sometimes control.
There are those who want to run experiments on her and use her for their own purposes, while others think she should be committed to an asylum. When the pair discovers someone is impersonating Aunt Cornelia at a conference on psychic dreaming and a woman dies at the conference, the door is opened to a dangerous web of blackmail and murder. Secrets from the past are revealed, leaving Maggie and Sam in the path of a ruthless killer who will stop at nothing to exact vengeance. Praise for Amanda Quick 'A master storyteller' The Huffington Post'Sparkles with wit and clever plotting' Publishers Weekly'Sexy . . . clever, fun' Kirkus Reviews
Information
Format:Paperback / softback
Pages:320 pages
Publisher:Little, Brown Book Group
Publication Date:03/11/2022
Category:
ISBN:9780349432281
Other Formats
Paperback / softback from £13.75
Information
Format:Paperback / softback
Pages:320 pages
Publisher:Little, Brown Book Group
Publication Date:03/11/2022
Category:
ISBN:9780349432281