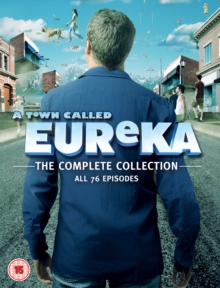 A Town Called Eureka: Seasons 1-5
DVD
Description
All five seasons of the fantasy show set in the quirky town of Eureka.
A secret haven for inventors aiming to provide the latest scientific breakthrough, Eureka buzzes with eccentricity and high-tech prototypes.
Sheriff Jack Carter (Colin Ferguson) is the town's odd one out.
Rather than an inventor, Carter is a practical man who values simple ideas and straightforward solutions.
These prove to be invaluable qualities in the madcap environs of Eureka, where Carter's common sense time and again saves the town (on a few occasions, possibly the world) from self-inflicted disaster.
Season 1 episodes are: 'Pilot', 'Many Happy Returns', 'Before I Forget', 'Alienated', 'Invincible', 'Dr. Nobel', 'Blink', 'Right As Raynes', 'Primal', 'Purple Haze', 'H.O.U.S.E.
Rules' and 'Once in a Lifetime'. Season 2 episodes are: 'Phoenix Rising', 'Try, Try Again', 'Unpredictable', 'Games People Play', 'Duck, Duck Goose', 'Noche de Sueños', 'Family Reunion', 'E = MC...?', 'Sight Unseen', 'God Is in the Details', 'Maneater', 'All That Glitters' and 'A Night at Global Dynamics'.
Season 3 episodes are: 'Bad to the Drone', 'What About Bob?', 'Best in Faux', 'I Do Over', 'Show Me the Mummy', 'Phased and Confused', 'Here Come the Suns' and 'From Fear to Eternity'.
Season 4 episodes are: 'Founder's Day', 'A New World', 'All the Rage', 'The Story of O2', 'Crossing Over', 'Momstrosity', 'Stoned', 'The Ex-Files', 'I'll Be Seeing You', 'O Little Town', 'Liftoff', 'Reprise', 'Glimpse', 'Up in the Air', 'Omega Girls', 'Of Mites and Men', 'Clash of the Titans', 'This One Time at Space Camp...', 'One Small Step', 'One Giant Leap' and 'Do You See What I See'.
Season 5 episodes are: 'Lost', 'The Real Thing', 'Force Quit', 'Friendly Fire', 'Jack of All Trades', 'Worst Case Scenario', 'Ex Machina', 'In Too Deep', 'Smarter Carter', 'The Honeymooners', 'Mirror, Mirror', 'Double Take' and 'Just Another Day'.
Information
Format: DVD
Region: 2
Certification: (15)
EAN: 5030697041845
Catalogue number: FHED3931
Studio: Medium Rare
Release date: 21/10/2019
Genre: Action/Adventure
Colour: Colour
Free Home Delivery
on all orders
Pick up orders
from local bookshops