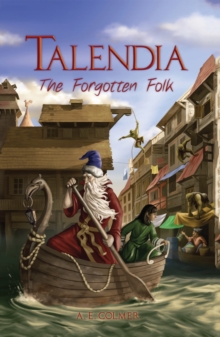 Talendia : The Forgotten Folk
Paperback / softback
Description
The second fantasy novel in the Talendia series Return to the fantastic world of Talendia to witness the war of the three kingdoms.
A fantasy children's novel with many strong female characters. Through a labyrinth of underground tunnels, Frida is taken by the meadow goblins to their headquarters.
There she has to face not only the goblins' sly leader but also the enigmatic sweaguls once again.
But in the goblins' dark and damp cell Frida befriends another prisoner and makes an incredible discovery.
However, she is in even bigger danger than she thinks: her captors want to sell her to the Witches of Rivergarth, the most fearsome creatures she has yet met in Overland.
Frida has no time to waste if she wants to be free again and find her friends, Samuel and Alpert, to share her discovery with them.
With their help she wants to save her new cell-mate even if they have to set foot in the most dangerous parts of Overland at a time when nobody is safe there and everybody can be an enemy or an ally. And while the most devastating war that Overland has ever seen is looming among its three kingdoms, the searches for the Forgotten Folk and the mysterious prisoner begin.
Information
Format: Paperback / softback
Pages: 176 pages
Publisher: Troubador Publishing
Publication Date: 25/04/2019
Category: Fantasy
ISBN: 9781789016987