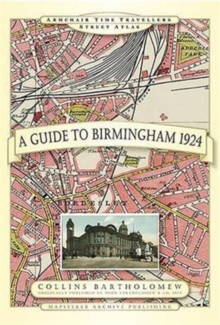 A Guide to Birmingham 1924
Hardback
Description
Travel back to 1924 Birmingham by exploring the detailed street atlas republished in larger detail and supplemented with nostalgic views and vistas from the 1920's and earlier.
This great manufacturing city had grown at an unprecedented rate fuelled by the Industrial Revolution and its rich diversity of trades.
Throughout the 20th century its growth would not slow, however many buildings and landmarks would disappear, whether as a result of war time bombing or reckless planning.
Numerous farmsteads can be seen in the outlying rural areas at that time, now they are long gone; their names now live on in the many housing estates that would be built in the ensuing decades.
Information
Format: Hardback
Pages: 96 pages
Publisher: Historical Images Ltd
Publication Date: 14/12/2013
Category: Historical maps & atlases
ISBN: 9781844918225
Also in the Armchair Time Travellers Street Atlas series