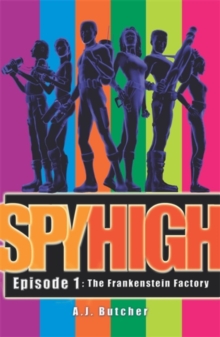 Spy High 1: The Frankenstein Factory : Number 1 in series
Paperback
Description
They can hack any computer, break any code, take out bad guys with SleepShot from two hundred metres, and vanish utterly without trace.
The one thing Bond Team haven't got their heads round is, er, bonding.
Jake and Ben want to kill each other, Jen thinks Lori is an airhead bimbo, and the only thing Eddie respects about Cally is her butt.
All this is very bad news. Because if they don't get it together for their first term exams, if they can't defeat the infamous Stromfeld Program, then they can forget about ever graduating Spy High. And with a mind-wipe greeting all those who flunk out, we mean that quite literally.The SPY HIGH series continues with: 2.THE CHAOS CONNECTION (May '03), 3.
THE SERPENT SCENARIO (Jul '03), 4. THE PARANOIA PLOT (Sep '03), 5. THE SOUL STEALERS (Nov '03), 6. THE ANNIHILATION AGENDA (Jan '04)
Information
Format: Paperback
Pages: 224 pages
Publisher: Little, Brown Book Group
Publication Date: 01/05/2003
Category: General
ISBN: 9781904233138
Free Home Delivery
on all orders
Pick up orders
from local bookshops
Reviews
Showing 1 - 1 of 1 reviews.
Review by melwil_2006
16/06/2015
Late last year I found a series of books called CHERUB. These were fantastic British books, full of good characterisation and interesting plot lines.When I first picked up The Frankenstein Factory, I was hoping it would be similar - an American version, if you like. Unfortunately it was not to be. The storylines are set in the future, and the enemy seems flat and unthreatening - unlike the very real threats in CHERUB. Also the characters seem more set to stereotypes - Ben the rich boy-leader, Eddie the goof, Jake the troubled bad-boy, Lori the beauty, Callie the uber-smart street kid, and Jennifer the cold martial arts expert. Finally, no real justification is given to why these spies are chosen as teenagers.The book probably suffered because I was comparing it to the CHERUB series - on it's own, it would probably stand up better. It did become more interesting as you got into it, although it felt a little predictable from place to place.
Also in the Spy High 1 series