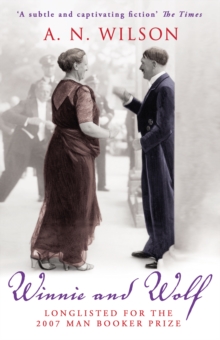 Winnie and Wolf
Paperback
Description
Winnie and Wolf is the story of the extraordinary relationship between Winifred Wagner and Adolf Hitler that took place during the years 1923-40, as seen through the eyes of the secretary at the Wagner house in Bayreuth.
Winifred, an English girl, brought up in an orphanage in East Grinstead, married at the age of eighteen to the son of Germany's most controversial genius, is a passionate Germanophile, a Wagnerian dreamer, a Teutonic patriot.
In the debacle of the post-Versailles world, the Wagner family hope for the coming, not of a warrior, a fearless Siegfried, but of a Parsifal, a mystic idealist, a redeemer-figure.
In 1923, they meet their Parsifal - a wild-eyed Viennese opera-fanatic in a trilby hat, a mac and a badly fitting suit.
Hitler has already made a name for himself in some sections of German society through rabble-rousing and street corner speeches.
It is Winifred, though, who believes she can really see his poetry.
Almost at once they drop formalities and call one another 'Du' rather than 'Sie'.
She is Winnie and he is Wolf. Like Winnie, Hitler was an outsider. Like her, he was haunted by the impossibility of reconciling the pursuit of love and the pursuit of power; the ultimate inevitability, if you pursued power, of destruction.
Both had known the humiliations of poverty. Both felt angry and excluded by society. Both found each other in an unusual kinship that expressed itself through a love of opera.
Information
Format: Paperback
Pages: 368 pages
Publisher: Cornerstone
Publication Date: 03/07/2008
ISBN: 9780099492474
Free Home Delivery
on all orders
Pick up orders
from local bookshops
Reviews
Showing 1 - 2 of 2 reviews.
Review by gilly1944
16/06/2015
Good for fans of Wagner! Sometimes hard going especially in the first half. Good insight into Wagnerian history and culture. Helps one understand how the Nazi regime came about and why it was popular.
Review by thorold
16/06/2015
The trouble I have with A.N. Wilson is that he wrote lively, witty novels that I enjoyed thirty years ago, and he has written a lot of excellent non-fiction since. So I keep coming to his fiction with high expectations, only to end up with something rather dull. This seems to be the most interesting one for a while, but it's still heavy going in parts. The premise is interesting, and as usual, Wilson has picked a subject that is almost bound to get him into trouble. His strategy for dealing with it is one straight out of Sir Walter Scott: nested levels of dull, pedantic narrators. Wilson's probably the first person to do this in anger since <i>Old Mortality</i>, and it's a risky approach: the voice of the lowest-level narrator, N____, is so dull and uninspired in the early part of the book that I nearly gave up. Fortunately Wilson cheats a bit and sneaks in his own voice when he moves out of the 1930s story of Hitler and Winifred Wagner into the back-stories of Richard Wagner and of Hitler's youth.I liked the non-chronological presentation that tied the story to the themes of Wagner's main operas. The central questions the book attacks are the obvious ones: Why were Germans attracted to Hitler and his policies? Can Wagner's artistic genius be disentangled from its political baggage? But they were treated in a reasonably fresh way. I felt Wilson did a little better with Hitler than with Wagner. His treatment seems to ignore almost entirely that Wagner wrote <i>music</i>, and considers the operas on a purely literary level, as though they were plays or novels. Obviously that's partly a limitation imposed by the need to communicate to general readers, but there are ways of talking about music without getting too Thomas Mann about it. Cutting out the music altogether is just weird, especially in a book that seems to take it for granted that readers are reasonably familiar with the stories and characters of the operas. To be fair, he mentions the music of <i>Tristan</i> &amp;mdash; how could he not? &amp;mdash; but doesn't really say anything about it. The treatment of Hitler looks at him from an unexpected viewpoint too — from behind! — but Wilson gives us the information we need to fit that unorthodox view into the more conventional picture of him. The <i>Flounder</i> metaphor is overworked a bit, though.This being A.N. Wilson, his real interest isn't in anything as mundane as Wagner or Hitler: the book gives him a wonderful chance to have yet another go at the 19th century crisis of religious faith. Where the Wagner/Hitler story is paradoxically full of British figures (even the <i>Ring</i> is a reworking of Shakespeare, we're told), at this more abstract level everything is thoroughly German, and Wilson is able to wheel out all the big guns from Schopenhauer and Nietzsche to Heidegger and Wittgenstein. Fun for all the family.Probably better as a slightly off-beat non-fiction study of Wagner-and-the-Nazis than it is as an historical novel, but not bad, for all that.