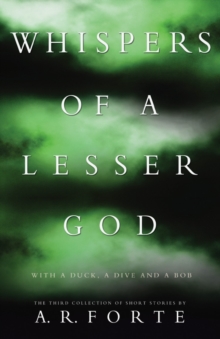 Whispers of a Lesser God : With a Duck, a Dive and a Bob
Paperback / softback
Description
Whispers of a Lesser God is the third in a collection of short, sharp, sarcastic satires that speak to the reader in a simple, effective fashion.
They are especially designed for easy reading whilst making maximum impact.
They all follow distinctly different paths, each story bizarre, unpredictable and mysterious.
The reader is invited and induced to take part in the action as it unfolds, returning old characters while introducing new ones to the melee. Maintaining complete originality, these stories will appeal to those who love cutting wit, uncomfortable honesty and pop culture, as well as those who enjoyed the first two collections: Spirits of a Lesser God, 2012 (9781780880846) and Visit from a Lesser God, 2014 (9781783062300). Reader reviews from Visits from a Lesser God:"He writes to no formula, no structure and no rules.
Simply fast, furious and provocative writing. Refreshing and daring stuff.""Only a free thinker can write like this.
His satires are flooded with original ideas and scenarios.""I like the way AR Forte not only speaks to the reader, but is also asking the reader uncomfortable and tantalizing questions."
Information
Format: Paperback / softback
Pages: 168 pages
Publisher: Troubador Publishing
Publication Date: 19/07/2018
ISBN: 9781789015058
Free Home Delivery
on all orders
Pick up orders
from local bookshops