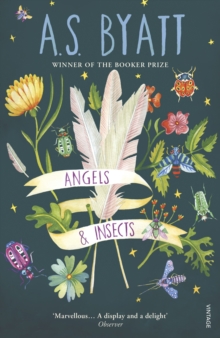 Angels and Insects
Paperback
Description
Morpho Eugenia and The Conjugal Angel are two fascinating novellas and, like A.
S. Byatt's Booker Prize-winning novel, Possession, they are set in the mid-nineteenth century, weaving fact and fiction, reality and romance.
Information
Format: Paperback
Pages: 304 pages
Publisher: Vintage Publishing
Publication Date: 21/10/1993
ISBN: 9780099224310
Free Home Delivery
on all orders
Pick up orders
from local bookshops
Reviews
Showing 1 - 1 of 1 reviews.
Review by gypsysmom
16/06/2015
This book is composed of two novellas both set in the mid-ninteenth century and both involving people of the upper classes. Otherwise the two works have nothing in common so it is hard to see how "A Major Motion Picture" could be made of them. Someone at work said he had seen it quite a while ago and he recalled that the movie went back and forth between the two stories but from looking at the IMDb review it looks to me like the movie is only based on the first novella, Morpho Eugenia. This makes more sense because that story is almost cinematic in its descriptions.Morpho Eugenia tells the story of William Adamson, an adventurer recently returned from the Amazon to England. He spent 10 years in the Amazon gathering samples of indigenous insects, particularly butterflies. Unfortunately his return ship sank and almost all of his specimens sank with it. This was a severe blow because he was counting on selling those specimens to give him enough money to return to the Amazon. When the wealthy collector, Lord Alabaster, invites William to his estate to show those specimens he did save, William leaps at the chance. Once there he falls in love with the Lord's eldest daughter, Eugenia. Eugenia was engaged to be married but her fiance died and she is quite depressed. Lord Alabaster invites William to catalogue his extensive collection of insects (and other items) and offers him a handsome salary. Because this is a good way to stay close to Eugenia and also to make some money, William accepts. Eventually he is emboldened to propose to Eugenia and she accepts. Eugenia and William have a double ceremony with Eugenia's younger sister. William and Eugenia continue to live at the manor house and William continues to catalogue the vast collection. Children are born in quick succession so that William's dream of returning to the Amazon remains just a dream. William passes on his fascination with insects to the youngest Alabaster children at the entreaty of their caregiver, Matty Crompton, and together they write a children's book. Eventually this book provides the means for William to return to the Amazon but not as he imagined.The second book, The Conjugial Angel, was a struggle for me. It involves a group of people who are spiritualists, trying to communicate with their dear departed. There is much detail about the philosophy of Emanuel Swedenborg, the founder of the Church of the New Jerusalem. I had never heard of Swedenborg or his church before. When I first read the title of the novella I read it as The Conjugal Angel but conjugial refers to the divine marriage of the Lord and the church, not marriage between two persons. Swedenborg believed that heavenly angels were composed of a man and a woman who were true and only loves on earth. One of the people in the group is the sister of Alfred Tennyson, Emily, and she was engaged to a friend of Tennyson's, Arthur Hallam. Sadly Hallam died very young while away on a European trip and Emily eventually married a sea captain, Mr. Jesse. Tennyson went on to write a poem to Arthur that was one of his most famous works. There is much quoting of this work and other poems of Tennyson, Keats, Browning as well as passages from the Bible. I found these passages, and the discussions about the spirit world, very tedious. The ending was a surprise and the best part of the work.