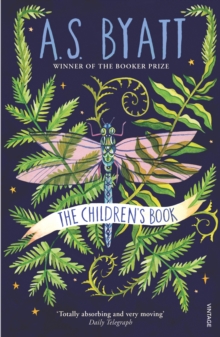 The Children's Book
Paperback
Description
Famous author Olive Wellwood writes a special private book, bound in different colours, for each of her children.
In their rambling house near Romney Marsh they play in a story-book world - but their lives, and those of their rich cousins and their friends, the son and daughter of a curator at the new Victoria and Albert Museum, are already inscribed with mystery.
Each family carries its own secrets. They grow up in the golden summers of Edwardian times, but as the sons rebel against their parents and the girls dream of independent futures, they are unaware that in the darkness ahead they will be betrayed unintentionally by the adults who love them.
This is the children's book.
Information
Format: Paperback
Pages: 624 pages
Publisher: Vintage Publishing
Publication Date: 01/01/2010
ISBN: 9780099535454
Free Home Delivery
on all orders
Pick up orders
from local bookshops
Reviews
Showing 1 - 5 of 9 reviews.
Previous | Next
Review by thorold
16/06/2015
A new Byatt novel is something to look forward to and treasure, and this one certainly didn't disappoint me. In fact, I would say it's one of her best. You would have thought that the intellectual history of the Edwardian period, with its built-in narrative structure leading up to the Great War, has been done to death by now, but Byatt manages to find new and original paths through it. Weaving together ideas about childhood and storytelling with the political and social movements of the time is a clever idea, and it's done in subtle and clever ways. I was particularly impressed by the way she lets history gradually take over from fiction as we get towards the end. You do feel occasionally that you are being treated more like an intelligent undergraduate than a novel-reader, but it's done in the nicest possible way, and you don't have to write an essay about it afterwards.On a sillier note, the least surprising thing about this book is that the central characters include two sisters from Yorkshire (we'd be queueing up to get our money back if they didn't!). There's also a buried joke somewhere in Byatt, of all people, choosing to write a novel in which potters (even if they are small-p potters) play such a large part. Of course, it's not really a joke. Having aired her views in the press about what children's literature should <i>not</i> be, Byatt is now discussing in a fictional context how storytelling works as a part of the experience of childhood (and indeed adulthood).
Review by rdurie
16/06/2015
I really struggled with this, having loved Possession. The story is intersting but told in a plodding way, IMHO. At various points the author inserts slabs of history presuambly to give the reader a better context. I found this extremely tedious. If you need to insert slabs of factual material to make your fiction work, then what is the point. I gave up after about 4 chapters and skim read the rest to find out what happened
Review by cjwallace
16/06/2015
This is a long, dense and complex novel that proves ultimately worthwhile, both in intellectual and in aesthetic terms. Indeed, I was continually drawn to it in the bookshop due to its absolutely beautiful cover and bought it, somewhat against my better judgment, as I wasn't really looking for anything heavy.It spans a fascinating period of English history: the end of the 19th century until the first world war. Historically, the end of the straightlaced Victorian era and what proved to be an abortive 'new world'. It is based in Kent, in the remote and fascinating countryside around Romney Marsh, with excursions to London, Cambridge, Paris, Munich and beyond. The pivotal character, Olive Welwood, is a mother of many children and a writer of children's books. She comes from working-class mining background, marries a husband with intelligence and political ideals, but, once he exercises those ideals to leave his job in the city, has to financially support her family in their large rambling home by her writing. Olive tries to leave behind her old life and leave behind the old world. She tries to be liberated, 'modern' and creative, but the extent to which she can do that while paying attention to her responsibilities as a mother and breadwinner is debated. Responsibility is a central theme of this book. To what extent can a creative/bohemian lifestyle enable one to live responsibly in the world? Olive's husband, Humphry, looks down on his brother, Basil, a respected banker (who indeed makes some rather morally dubious financial decisions), but Humphry depends on his wife financially and yet conducts frequent affairs, often leading to the birth of children who he (read: Olive) has to support. Benefict Fludd, the great artist, seems to expect that his artistic temperament can forgive his sexual interest in his own children, and his wife, helped by drugs, disengages from existence completely. Herbert Methley, novelist and speaker on sexual liberation, impregnates young women and leaves it up to his wife to take responsibility. This is not to say that this is an anti-male book. Many of the admirable characters, notably Prosper Cain and Philip Warren, are male - the first coming from a military background, the second from poverty. But any novel about progressive thinking and responsibility set in this time must necessarily consider the extent to which women often had to bear the brunt of the negatives flowing from the ideals of the time.It also has to engage with the lack of realism within those same ideals . Humphry and Olive are left-wing Fabians, but think nothing of sending their son to an English public (i.e. private) school, which damages him, possibly irreperably. The importance of women's education is discussed and debated, rather than assumed, and, of course, the sacrifice that educated women of the time made is noted. Basil's son, Charles, is attracted by the radicalism of anarchy but cannot assent to the assumption that murder is an acceptable form of political statement. The creative core of the book lies within the Arts and Crafts movement of William Morris, with its emphasis on the dignity of labour and the importance of making things oneself from scratch, rather than dividing labour and industrialisation. The positive side of this movement can be derived from the story of Philip - born in the Potteries, with parents who died from the consequences of industrial production of ceramics, he is able to make a name for himself as a ceramic artist. But the naivity is obvious - the dignity of creative work is all very well, but it takes Geraint, Fludd's son who rebels by becoming a banker, to remind everyone that one needs to make money in order to eat.As the title suggests, this is a book about children. Byatt seems to be telling us that this is a book about adults acting like children, and children acting like adults. This period in history was a period when children stopped being 'seen but not heard.' They were often treated like adults and children's literature saw what many still believe to be its golden era. But, of course, as the final section reminds us, it was this generation of European children who were victims of the horrors of the First World War.One thing that was impressed on me here was the possible contemporary parallels. My generation is a generation who have grown up in relative prosperity and are perhaps therefore more likely to lean towards irresponsibiity and excessive idealism. The dominance of children's literature is striking, as is the "back to earth" aesthetic, which may be better expressed nowadays by the endless TV shows encouraging us to move to the country and keep chickens (wearing Cath Kidstone aprons and with roses in our hair, presumably!) - an aesthetic which has little to do with real country life and is only possible with large amounts of income. It's not an easy, light read. As many reviewers have observed, you need to take on an awful lot of information in order to make sense of it and its context. It's not to be read quickly and it's probably to be read more than once. But I recommend it.
Review by jintster
16/06/2015
The third of the 2009 Booker shortlist and the best so far for me. It's a little hard to categorise this novel, although family saga probably comes closest. It concerns the lives of two generations of two branches of an upper middle class family called the Wellwoods and their friends and associates between the 1890s and 1918. To the extent that there is a central character, it is Olive Wellwood, apparently loosely based on Edith Nesbit. Olive and most of her family and her circle are part of the arts and craft movement which was so important in late Victorian Britain. Some of them are also Fabians, one is an anarchist and one a suffragette. Through them Byatt tries to capture the decline in Victorian certainties and the new assertiveness and aggression of those who wished to challenge the status quo. I've not read anything by Byatt before and was struck by just how good her writing is, particularly on subjects that others often find difficult. She writes really astutely on character and motivation and is able to get inside the heads of adolescents in particular. There are also some beautiful descriptions of works of are, particularly of pottery - somehow Byatt really makes you appreciate the variation in glazes even if you can't see them . I'd love to go around a museum (preferably the Victoria & Albert) with her. The book is a little over researched and there are quite lengthy asides on bits of social history - suffragettes, the arts and crafts movements, Edwardian children's fictions etc - which I quite liked but do break up the story and may not be everyone's cup of tea. That aside, I'd say this is the best modern novel I've read since starting this challenge. Beautiful cover as well.
Review by CasualFriday
16/06/2015
This is a fat, sprawling book that spans the late Victorian period through World War I, about writers, artists, Fabian socialists, the arts and crafts movement, free love, the suffrage movement, theater, puppetry and war. If those subjects intrigue you on the face of it, give this book time to sink in: it's one of those lovely slow-paced books perfect for summertime, although its abundance of characters make for confusion at times. The story pivots around Olive Wellwood, a successful writer of children's books, and her many children, who must cope with the strains of their unconventional household and the discovery of several family secrets. We also meet Benedict Fludd, a mad potter, and Phillip Warren, the working-class boy he takes under his wing.There is a lot of story here, yet the book is not plot-driven. It's not character-driven either: most of the characterization is impressionistic. The prose is unassumingly good, and dramatic episodes are rendered very quietly. I think the book is idea-driven, and dream-driven to an extent. Motifs of underground pervade the book, from the museum basement where Phillip is first discovered searching for Art, to Olive's fantasy story for her son Tom, and finally to the trenches of World War I. Fairy tales are used to convey both romantic illusion and grim nightmare. I think that Byatt is limning the end of England's self-absorbed faux innocence as it is forced into modernity.