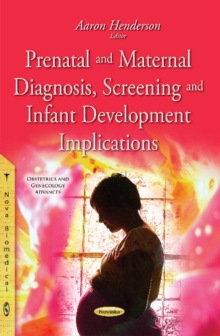 Prenatal & Maternal Diagnosis, Screening & Infant Development Implications
Paperback / softback
Description
One of the challenging issues of contemporary pediatrics is potential long-term effects of maternal cigarette smoking during pregnancy on the subsequent infant behavioral and cognitive development.
The chapters in this book address to what extent and in what direction maternal smoking during pregnancy may influence infant's behavior during sleep.
Recent reports were highly indicative that sleep disturbances were common in the newborns of the mothers who have been heavy smokers during pregnancy.
Snuff consumption during pregnancy is discussed, which has many adverse effects on the fetus, i.e., spontaneous abortion, premature delivery premature sagging of the placenta, vaginal bleeding, high blood pressure and heart rate, premature rupture of membranes, among others.
The authors of the third chapter discuss orofacial clefts, and with the development of ultrasound technology, how they can be detected antenatally which can ultimately help with the planning postnatal management of babies.
Nowadays, prenatal diagnosis is necessary for pregnant women.
In the fourth chapter, technical advancements of using maternal circulating nucleic acids as the sample in noninvasive studies is introduced, highlighting the utilization of next-generation sequencing in the screening of genetic diseases.
The fifth and final chapter introduces Comparative Genomic Hybridization (CGH) analysis in postnatal analysis and its use as a first-tier test in cases of Intellectual Disabilities.
Information
Format: Paperback / softback
Pages: 98 pages
Publisher: Nova Science Publishers Inc
Publication Date: 01/09/2015
Category: Medical screening
ISBN: 9781634827942
Free Home Delivery
on all orders
Pick up orders
from local bookshops