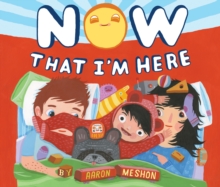 Now That I'm Here
Hardback
Description
Before he was born, Mom and Dad dreamed of their new baby.
Back then life was boring. All they did on weekends was sleep in; have quiet, peaceful (dull) breakfasts; and read lots of (boring) baby books.
But now, life is an adventure. Their new child makes for an excellent alarm clock, knows that sofa cushions are better used in a pillow fort, and shows how a detour through the park can make the morning commute magical.
Best of all, now the whole family reads fun books... together. In this playfully sweet picture book, perfect as a baby shower gift, Aaron Meshon captures the eagerness of expecting parents - and all of the chaotic, messy, wonderful joy a new child brings.
Information
Format: Hardback
Pages: 40 pages
Publisher: Penguin Putnam Inc
Publication Date: 04/05/2018
Category: Family
ISBN: 9780735229365