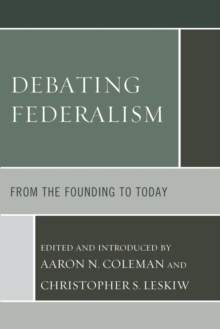 Debating Federalism : From the Founding to Today
Paperback / softback
Description
Federalism-the division of authority between the states and the federal government-ranks among the most important and lasting political and constitutional contributions of the American founders.
Since the founding, however, Americans have engaged in a perpetual argument over federalism's proper structure and function.
Arranged thematically and covering the entire span of American history, Debating Federalism: From the Founding to Today provides readers with the sources necessary to trace and understand this perennial debate. By examining the theoretical, polemical, political arguments as well as landmark Supreme Court cases, this collection reveals the continuing relevance and contentiousness of federalism in the American constitutional order.
Information
Format: Paperback / softback
Pages: 342 pages
Publisher: Lexington Books
Publication Date: 21/11/2018
Category: History of the Americas
ISBN: 9781498542890