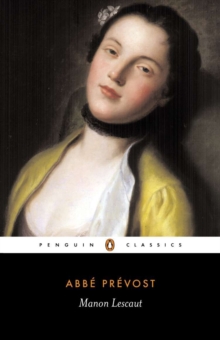 Description
When the young Chevalier des Grieux first sets eyes on the exquisitely beautiful and charming Manon Lescaut they fall passionately in love.
But his happiness turns to bitter despair when he discovers that Manon is mercenary and immoral, and has taken a rich lover to pay for their life of pleasure.
A broken man, he swears to stay away from her, but cannot.
Just as the Chevalier is helpless to end their relationship, so Manon is incapable of giving up the source of her income, and the lovers enter a destructive cycle that can only end in tragedy.
Manon Lescaut (1731) is a devastating depiction of obsessive love and a haunting portrait of a captivating but dangerous woman.
Information
Format: Paperback
Pages: 208 pages
Publisher: Penguin Books Ltd
Publication Date: 26/09/1991
Category: Classic fiction (pre c 1945)
ISBN: 9780140445596
Other Formats
Paperback from £6.35
Paperback / softback from £11.35
EPUB from £2.99
Hardback from £13.05
Free Home Delivery
on all orders
Pick up orders
from local bookshops
Reviews
Showing 1 - 5 of 5 reviews.
Review by soylentgreen23
16/06/2015
An interesting short story from the 18th century in France; a story of a man and the woman he passionately loves, though cannot understand. She is from the lower end of the bourgeous, and values pleasure and financial security above all else; he is ruled by his heart and his passions. Their lack of mutual understanding leads to tragedy after tragedy; it almost becomes too much in so brief a tale, but Prevost is a master of his craft and so the book is still definitely worth reading.
Review by rrainer
16/06/2015
I enjoyed this more than I thought I would, perhaps because I didn't realise when I started it that it was so revolutionary for its time. Passionate, oblivious, doomed lovers on what is essentially a crime spree to feed an addiction...it reminded me of Tarantino in a weird way.
Review by stuart10er
16/06/2015
Frustrating novel of two lovers who cannot agree as to the ground rules of their relationship. Manon, an uncommonly attrative common girl, is swept up by the Chevalier Des Grieux. Their romance is driven and then driven apart as much from external forces as by their lack of common understanding of the ground rules of their existence together. The edition I read is flawed as the novel was written in 1731 and my English edition had chapter heading quotes from Byron, Scott, and others who clearly did not travel back in time to provide quotes for the chapter headings on novels written 80 years in the past.
Review by stillatim
16/06/2015
A fairly easy, short read that could also lead you to some serious thoughting if you're not careful. The introduction to this edition is great, although I find it hard to believe that the book is meant to be, as the editor suggests, "a defence of love shaped by the hands of a master." <br/><br/>If you're going to defend the passion of lurv*, I doubt your best option is to show how it leads to (plot spoilers) theft, fraud, kidnapping, assault, murder, jail-break, prostitution, and generally every other vice possible for an upper class Frenchman of the time. <br/><br/>On the other hand, a book that's about the clash between passion and reason/virtue should present the benefits of both sides, and Prevost does it well enough that, apparently--although in my eyes incomprehensibly--people do still read this as a story about how great lurv is. <br/><br/>And now for a bit of wanton literary professor wonkishness: the tale is told, frame story aside, by the male lurver, des Grieux. We hear all about his feelings (viz., pubescent mood swings). We never get any sense for how Manon Lescaut actually feels about the insanity (literally, I'd guess) she inspires in him, and never get any sense for her feelings. This reminds me of Kushner's Flamethrowers, which I read recently. I got no sense of her personality in that book, aside from a range of completely disconnected deeds. But there *she* is the narrator. I have no idea what to make of that. <br/><br/><br/>* I distinguish here between love, which is what happens when two or more people willingly rely on each other for the kind of moral and personal support needed to live an even moderately painless life, and Lurv, which is what happens when teenagers (like the characters in this book) get all sexy.
Review by LadyLiz
27/08/2015
I read this for a class about the Fiction of Relationships, and I must admit, I liked the book better after hearing the accompanying lecture. I found the characters a bit one dimensional, but I think that was intentional, and not entirely unusual for the timeframe when it was written. <br/><br/>A young man of some nobility falls in love with a (very) young woman of a lower social class. They run off together, and the rest of the book is them trying to be together, or him trying to overcome his grief that she cheated on him, or him trying to rescue her from her punishment for cheating (or trying to cheat) her other lovers out of their money in order to support the young nobleman who cannot ask his father for money because his dad does not approve of their relationship. Throughout all of her cheating, his family's disapproval, prison time, poverty, and all the other obstacles they face, the young Chevalier des Grieux insists that young Manon Lescaut loves him deeply, as deeply as he loves her. <br/><br/>I never saw it.<br/><br/>Since the story comes only from his point of view, it is possible that he is not a reliable narrator, and therefor we just don't see her love, but, if he is an unreliable narrator, I am more likely to believe that he is up-playing her love and devotion to him. She tells him she expects "fidelity of the heart" alone. Physical cheating does not matter. In this day and age, that's a pretty bold thing to say. I can only imagine what people thought about such a statement from a woman in 1700's when this was written...<br/><br/>Overall, I wouldn't have read this on my own, but it wasn't a horrible read. It gives an interesting view of Paris and New Orleans, for those history buffs out there, and it does make for an interesting case study of relationships.