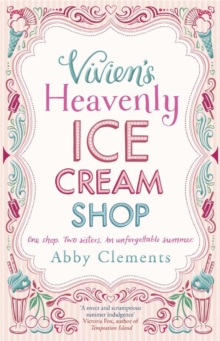 Vivien's Heavenly Ice Cream Shop
Paperback
Description
'Deliciously romantic. A perfect summer read!' Miranda Dickinson. Discover this feel-good bestseller set by the sea, perfect for fans of Jo Thomas and Cathy Bramley.
When Imogen and Anna unexpectedly inherit their grandmother Vivien's ice cream parlour, it turns both their lives upside-down.
The Brighton shop is a seafront institution, but while it's big on charm it's critically low on customers.
If the sisters don't turn things around quickly, their grandmother's legacy will disappear forever.
With summer looming, Imogen and Anna devise a plan to return Vivien's to its former glory.
Rather than sell up, they will train up, and make the parlour the newest destination on the South Coast foodie map.
While Imogen watches the shop, her sister flies to Italy to attend a gourmet ice cream-making course.
But as she works shoulder-to-shoulder with some of the best chefs in the industry, Anna finds that romance can bloom in the most unexpected of places...
Information
Format: Paperback
Pages: 400 pages
Publisher: Quercus Publishing
Publication Date: 23/05/2013
ISBN: 9781782064282
Free Home Delivery
on all orders
Pick up orders
from local bookshops
Reviews
Showing 1 - 1 of 1 reviews.
Review by elliepotten
16/06/2015
Having read and enjoyed <i>Meet Me Under the Mistletoe</i> last Christmas, and being a fan of foodie novels like Jenny Colgan's <i>Meet Me at the Cupcake Cafe</i>, I was well chuffed when my blogger friend Katie offered to send me her copy of <i>Vivien's Heavenly Ice Cream Shop</i> over the summer. The cover is GORGEOUS - very much like the Jenny Colgan ones, in fact - and happily the contents were delectable as well!It's about two chalk 'n' cheese sisters, homebird Anna and eager traveller Imogen, who unexpectedly inherit their grandmother Vivien's ice cream shop on the Brighton seafront when she passes away. With Vivien's legacy to inspire them - though it's been a while since the shop did more than break even - they take the plunge and try to make a go of things. After revamping the interior and renaming it after its feisty late owner, food lover Anna flies out to Italy to learn the art of professional ice cream and sorbet-making while Imogen takes the reins at home in Brighton. Of course, all is not smooth sailing. Mishaps and crises ensue, both girls' love lives get dragged across the rocks, family tensions are at an all-time high, and Imogen is still feeling the tug to return abroad to continue following her passion for underwater photography. Meanwhile someone in Brighton seems to be out to sabotage their efforts before Vivien's can even get off the ground...To be honest, I wasn't expecting much more than some fluffy entertainment to pass a day or two - but I absolutely LOVED this book. I think the various settings helped: Vivien's is on the seafront in Brighton, Anna travels to Florence for her course, Imogen has been living on a Thai island, and later she goes to the Glastonbury festival as well. All the different flavours of summer and holidays and the beach and music and sunshine, all rolled into one! Between the interesting locations, the ice cream and the budding romances, I closed the book with a happy sigh on my lips, feeling all sunny and contented.The only thing I noticed that annoyed me a bit was the fact that the characters do a lot of 'recalling' - not just 'remembering' or 'thinking about' - which sounds very awkward and feels like a bit of a lazy way of filling in back story. It's been a while since I read <i>Meet Me Under the Mistletoe</i> but I think Clements did the same thing in that one. It's less jarring here, but I still noticed it! I also noticed a couple of editorial errors - at one point Clements mixes up the Italian names of Anna's landlady and her course tutor, and later she mentions Vivien's husband Joseph when previously she'd called him Stanley. Those mistakes were glaringly obvious and really should have been spotted during the editing process - but likewise, they can be easily fixed. As a business owner (technically) I really appreciated the realistic business side of this particular book - something I had a slight issue with in <i>Meet Me at the Cupcake Cafe</i>. Anna and Imogen have some money from their grandmother to help them with their start-up costs, but they soon get through it and unlike Issy's cupcake cafe, they don't seem magically able to invest in expensive events and hire extra staff within months. They have to do the hard graft themselves, and have a real struggle on their hands to get the shop off the ground and onto the radar of locals and visitors alike - perhaps that was what helped make the story so compelling. It was a much more honest look at the experience of opening a shop, and although of course Vivien's flourishes by the end of the novel, I really appreciated the fact that Clements didn't make things too easy for her characters!All in all, this was a really sunny, bright and delicious slice of summer fiction that MIGHT even have toppled Sophie Kinsella's <i>The Undomestic Goddess</i> off its top spot as my go-to book when I need to bury myself in something lively, inspiring and generally fuelled by sugar and spice and all things nice. Five stars, and I'll definitely be keeping it - along with Katie's Penguin postcard - ready for next time I need cheering up!<b>BONUS POINTS:</b> for the now-standard recipes in the back of the book, which include a classic vanilla ice cream and a delicious-sounding salted caramel that I'm determined to make my stepdad try out sometime!