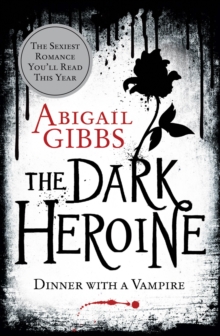 Dinner with a Vampire
Paperback
Description
The addictive, enthralling debut by online sensation Abigail Gibbs.
The sexiest romance you'll read this year.One moment can change your life forever...For Violet Lee, a chance encounter on a darkened street draws her into a world beyond her wildest imaginings, a timeless place of vast elegance and immeasurable wealth - of beautiful mansions and lavish parties - where a decadent group of friends live for pleasure alone.
A place from which there is no escape... no matter how hard Violet tries.Yet all the riches in the world can't mask the darkness that lies beneath the gilded surface, embodied in the charismatic but dangerous Kaspar Varn.Violet and Kaspar surrender to a passion that transcends their separate worlds - but it's a passion that comes at a price.As featured on BBC Breakfast, Sky News, Sunday Times, Guardian, Mail Online, Huffington Post and Sugarscape.
Information
Format: Paperback
Pages: 560 pages
Publisher: HarperCollins Publishers
Publication Date: 01/10/2012
Category: Adult & contemporary romance
ISBN: 9780007503674
Other Formats
EPUB from £1.99
eAudiobook MP3 from £13.59
Free Home Delivery
on all orders
Pick up orders
from local bookshops
Reviews
Showing 1 - 4 of 4 reviews.
Review by DarkFaerieTales
16/06/2015
Review courtesy of Dark Faerie TalesQuick & Dirty: A human and a vampire prince are thrown together under strenuous circumstances and passion ignites.Opening Sentence: Trafalgar Square is probably not the best place to stand at one o'clock in the morning.The Review:Dark Heroine is basically a story of a girl with Stockholm's Syndrome succumbing to her desires for a sexy, dark, and dreadful vampire. Saying that, this book is so much more. While I may not believe the premise of this story is note-worthy, I must admit that the characters and their world linger in my mind long after the story ends.Violet Lee, daughter of a prominent government official, was in the wrong place at the wrong time. Now she is a "guest" of a family of royalty who just happen to be vampires. Her world now turned on its head, Violet struggles to come to terms in the aftermath. She can never go back to how she was before but is balking against the future laid out in front of her. All of her fears and expectations of her "kidnappers" are challenged again and again, leaving Violet confused on what are the right choices to make. Should she give in and become a vampire by choice or fight until her dying breath to stay human? What should she do about her growing attraction to the sexy and aggravating Kaspar?Kaspar Varn, prince and heir to the throne, has really stepped in it this time. The human he kidnapped happens to be the daughter of a very important man in the human government that is intent on his people's demise. Now his father wants him to "persuade" her to become a vampire of her own free will in order to avoid a war between their people. That would be easier if she wasn't such a pain in his neck. Kaspar's character is arrogant, as befitting his station, and has little patience concerning Violet. She seems immune to his charms and thinks him a monster. But the more time they spend together, the closer they get until the attraction between them leads to its inevitable conclusion. Will Kaspar put everything he has at risk for the sake of one human girl?While I was slightly put off by more than a little predictable plot, I was pleasantly surprised by the twists along the way. The introduction of prophesies and other mythical creatures takes what would be a simple story and adds depth. The complex world that surrounds the characters is fascinating. Not only do you have vampires living in secret among the humans, but you have the introduction of other dimensions that put your imagination in overdrive. I look forward to learning more about the Sagean people in particular in future books.Though the love story is center stage, the political machinations take up any slack and help the story be more evenly-paced. Violet may be young, but she is oddly adept at reading and interpreting the hidden motives of the Varn family. This is most likely because is reminiscent of high school dramas.I would have given this book a lower rating but for the fact the story lingered in my mind even after finishing it. I find that I WANT to know what happens next. I want to see where this series goes from here. I recommend this more to young adult genre lovers that are looking for more kick in their stories.Notable Scene:Suddenly, something cold pressed against my back. "I'm going to suck your blood," a voice murmured against my neck, and I flinched."Don't do that!" I exclaimed as plastic fangs pressed themselves into my neck, arms clad in dark material wrapping themselves around my shoulders. "Kaspar! Get off!""No," he replied, pressing his chest into my back. "I quite like it here."I struggled for a moment, trying to shrug his arms off. "At least stop slobbering all over my neck, and take those stupid fake things out; you have real fangs, for Pete's sake!""Keep it down; people will hear," he muttered, tone alarmed. But all the same he reached up and popped them out, placing them in his palm. He examined them, poking the rounded and exaggeratedly large incisors with the other hand—the one still wrapped around my chest. "Stupid humans. We wouldn't be able to eat with fangs that size.""You're just jealous because you have puny little things."FTC Advisory: Harper Voyager/William Morrow graciously provided me with a copy of The Dark Heroine. No goody bags, sponsorships, "material connections," or bribes were exchanged for my review. The only payment received came in the form of hugs and kisses from my little boys.
Review by lcrabtree
16/06/2015
For me this was one of those books where you say you're going to read to the end of the next chapter but then cant resist reading more because it's too intriguing not to.<br/><br/>I loved Kaspar from early on, even though he was a pompous, stuck up his own ass Prince. He's one of those characters who grows on you, especially when he let's his guard down and shows his slightly softer side.<br/><br/>From how it ended i'm assuming there will be a second book and I will happily read it when it comes out.
Review by Aoifesheri
16/06/2015
this book started out great the first 360 pages is a love story. On a late night out Violet witness a mass murder of 30 men by none other then vampires. The leader prince Kaspar is cold and heartless but as the story develops a great love story develops between him and violet. Also there is a love triangle. Anyway at this stage there is a few things that Kaspar does being a predator and Violet excepts,as the love story goes on Kaspar nature comes to light, it's not his past doings, it's what he does even while with her, I found several things hard to believe but I went with it anyway. At the start of the book Violet is strong, sarcastic and feisty a real likable character. <br/><br/>Then the story picks up a notch and I loved the next 100 pages where a great story kicks in, i got lost in it once again, as the love story took a back seat yet a great story line took over. but then on page 490 I felt like screaming to the extent i didn't finish the book with frustration. This is why.<br/><br/>(* SPOILER )*<br/><br/>Okay picture this she loves this guy and he loves her. But she is found out on a secret, that her dad killed his mom NOT HER BUT HER DAD. anyway they drag her by the head of hair outside across gravel, place a knife at her throat and decide to kill her. Kaspar all this time is looking at her as she cries but o no he is way to angry to help her. So he walks away to let her die. But a different guy saves her. Anyway it gets worse.<br/><br/>Later she asks him would you really have let me die and he says yes he would have, because he was SOOOOOOO angry. <br/>Now this amazing women that I have followed through the book would have told him to drop dead and I would have stood firmly beside her but NOOOOOOOOOOO she pokes him in the side playfully and asks could he forgive her for not telling him about her dad. He replies it will take time. <br/><br/>AHHHHHH HE WAS PREPARED TO LET HER DIE, AND SHE BECAME A DOOR MAT. I JUST COULDN'T READ ANYMORE.<br/><br/>there was a few other things that i didn't like but i overlooked but this i couldn't it was so stupid, and annoying. Pity.
Review by Strawberryga
16/06/2015
The cover statement "The Sexiest Romance You'll read This Year" Is totally misleading. Obviously the person who thinks that never read a Linda Lael Miller love story! Sexiest? Romance? <br/> This book seemed to have a good start, but the main character : Violet Lee. HATES Vampires, and hates her destined to be lover Kasper.<br/>She is a human, they are going to turn her, she doesn't want to be turned until Kapser turns up the charm. The last couple chapters of the book they have sex... nothing to get your motor running... and the end of the book was like pulling teeth to get thru.<br/> If there is a #2 I am not bothering to read it.<br/>Too bad, this book had potential but promised way too much...<br/>Oh and the cover also says Dinner with a Vampire.?. They eat several times in the same room... what is that about???<br/><br/>Would be 1 star but I think YA audience may enjoy the little kinky inuendos and blood orgy in a funhouse that didn't seem very exciting.
Also in the The Dark Heroine series