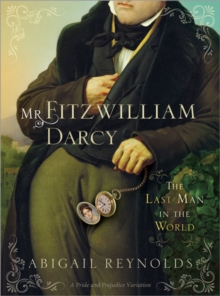 Mr. Fitzwilliam Darcy
Paperback
Description
Famous last words indeed! Elizabeth Bennet's furious response to Mr. Darcy's marriage proposal has resonated for generations of readers.
But what if she had never said it? Would she have learned to recognize Mr. Darcy's admirable qualities on her own? "The Last Man in the World" follows Elizabeth and Darcy as they struggle to find their way through the maze of their prejudices after Elizabeth, against her better judgment, agrees to marry Darcy instead of saying those famous words.
In this title, two of the most beloved characters in English literature explore the meaning of true love on a tumultuous and passionate journey to make a success of their marriage.
Information
Format: Paperback
Pages: 256 pages
Publisher: Sourcebooks, Inc
Publication Date: 01/01/2010
Category: Historical romance
ISBN: 9781402229473
Free Home Delivery
on all orders
Pick up orders
from local bookshops
Reviews
Showing 1 - 5 of 5 reviews.
Review by sagustocox
16/06/2015
Abigail Reynolds' <i>Mr. Fitzwilliam Darcy: The Last Man in the World</i> examines what it would have happened in Pride &amp; Prejudice by Jane Austen had Elizabeth Bennet not refused Mr. Darcy's marriage proposal. Lizzy is stuck in a situation in which she is forced to accept Darcy's proposal, or at least she feels that is the case. The marriage happens quickly and Lizzy is filled with anxiety about her role as Mrs. Darcy, what to expect from her husband, and how to overcome her prejudice against her him.<i>"Was his pride so great that it did not occur to him she might refuse him? Elizabeth opened her mouth to deny his allegation, but before any sound could emerge, she recognized the danger." (Page 6 of ARC)</i>Reynolds has a firm grasp of Austen's work and her Pride &amp; Prejudice characters, and that knowledge shines through as we follow Lizzy and Darcy into their alternate universe. From misunderstandings to barbs, Darcy and Lizzy spar with one another and hide their true feelings as they fear the other's reproach. The servants and the housekeeper, Mrs. Reynolds, are just as they should be -- hovering on the outskirts and ready to lend help when necessary.<i>"But when he turned his head sideways on the pillow, his eyes clouded with the drug, she leaned towards him to meet his lips with her own. It was a gentle kiss, but his lips were hot against hers. Elizabeth almost shook with the emotion of it." (Page 108 of ARC)</i><i>Mr. Fitzwilliam Darcy: The Last Man in the World</i> is a treat that will transport readers into regency England with a set of new and old characters. Lizzy and Darcy may be one of the greatest classic love stories, and Reynolds' spin on the love story reads like a classic. Lizzy is still strong-willed, but tentative in her new marriage and her new circumstances. Darcy is a bit harsh at times, but readers will forgive him his transgressions. Readers should be cautioned that there are some intimate scenes that give this novel a more contemporary feel. All in all, this is a delightful variation.
Review by sensitivemuse
16/06/2015
This book was so addictive, that late at night I put it down. It was getting late and I thought I should work on reading another book. No I had to stop and go back to this one. I had to finish it. I just had to. I wanted to know what was going to happen next to Lizzy and Darcy. My heart just went out to them because I wanted things to work for them and yet it looked like everything was going from bad to worse. So I just couldn't leave them there. I just HAD to finish this book. It took me two days to do so (because of interruptions and such). Since I'm so attached to Lizzy and Darcy, naturally this book absorbed every bit of my attention. I liked how it switched from Elizabeth to Darcy's viewpoint and it was fun to see how each one thought of each other and what they thought after their quarrels. Sometimes it made me just want to smack myself because they just couldn't see eye to eye and you wanted to jump in and become the middle person in their arguements. Then there were parts where I wanted both of them in their own corners as if they were children and misbehaving. It was just filled with such emotional conflicts that you weren't sure how to feel towards both of them. There were also times where I just heaved a sigh of frustration because it just wasn't working out and it felt as if it was one thing after another and you're left with saying: "Oh jeez, now what???" but, I liked it. This book was excellent on tugging emotions left, right and center. I really liked both Elizabeth and Darcy in this book. Their character development was great. What I thought most interesting was, Georgiana, who wasn't really much in the book developed in character as well I actually liked that considering we don't really hear much about her anyway. However, naturally the main character development is within Elizabeth and Darcy and they develop nicely. Plotwise, I'd have to say there really isn't much of one. The real main focus is the development of the relationship between Elizabeth and Darcy. This might not sit well with others as plot driven novels can be essential to the story. I didn't mind, I was too engrossed in their relationship and what they went through to really pay attention to having no plot.The one thing that did bother me about the novel was Elizabeth's behavior. Where was her wit? her comments that had the subtle sarcasm that was her trademark? where was her inner strength and her ability to think things through clearly and cleverly? to me, Elizabeth wasn't really Elizabeth it was like as if that part of her personality was wrenched out from her. I wasn't really too crazy about this new Elizabeth in this book but I went along with it. There were parts in the book where she engaged in her banter with Darcy but it just wasn't the same. It bugged me but not the the extent that I had to stop the book and quit it altogether. There are a few romance scenes in here, but I was willing to read it through. It was acceptable for a non romance reader like me.Overall, if Elizabeth's personality change doesn't bother even the most hard core of Austen readers out there, then by all means pick this up. It'll tear you to pieces with emotions, that I can guarantee you. You either wanted to reach out to either confort or lecture these two. This is a great Jane Austen "What if" question, and a great novel to add to your Austen sequel collection.
Review by distractedmusician
16/06/2015
What if Elizabeth Bennet didn't refuse Mr. Darcy's first marriage proposal? What if the circumstances arose that forced her to accept?As a huge Jane Austen fan, I was quite excited when I won this book through a contest on Apprentice Writer. What fun to see the beloved couple at it again! We just can't get enough of them can we? Unfortunately, I was slightly disappointed in the Elizabeth and Mr. Darcy I found in this Pride and Prejudice spin-off. Gone is the strong, quick, and witty Elizabeth we have come to know and love, and in the beginning, Mr. Darcy is wandering after her like a lovesick puppy, proclaiming his love for her at every opportunity. What's wrong with this picture? The reason I (and many people, I would believe!) love, love, LOVE Pride and Prejudice is the strength we see in Elizabeth Bennet, with her smart retorts, bright eyes and smile, and dry wit. And let's face it, we can't help but love Mr. Darcy despite his dreadful manners and dry comments. For much of the book the couple are at odds with each other, as a result of countless misunderstandings. They both have to convince each other of their love over, and over, and over again. She loves you, okay?It was much easier to take when I tried to separate it from Jane Austen, and read it as if I had never known the characters prior. Obviously, this is entirely NOT the point of the book, but it was the only way I could manage to enjoy it. I will say that the cover is absolutely beautiful - it looks much prettier on the physical book, and the combination of matte and gloss they've used is really stunning.I DO want to compliment Abigail Reynolds on her writing style - she did a fantastic job of modeling Jane Austen's writing style, and it reads like one of her novels would. It was just the characters I had issues with, but by no means do I consider her a bad writer. Just don't mess with something that is already perfect =] I would be very curious to read something of hers other than a Pride and Prejudice spin-off.
Review by Shuffy2
16/06/2015
What is Lizzie didn't refuse Darcy when he botched his first proposal? He may have ardently admired her but he didn't see his faults until Elizabeth Bennett broke his heart... Without that wake up call things would progress down a vrey different path. Elizabeth immediately moves into Pemberley, Georginia is not quite sure what to make of her, and she takes life altering advice from Charlotte Lucas. Now married, would Mrs. Darcy have to conceal her silver tongue in order to be 'happy' so far from home.As a Jane Austen fan I have read lots of P&P variations- couldn't put it down, quick fun read- finished it in less than a day. New spin to the classic!
Review by theepicrat
16/06/2015
And so begins a truly wretched marriage where Mr. Darcy views it as the single greatest thing in his entire life and Elizabeth sees it as her greatest sacrifice.If you love romances where the two main characters start off on opposite ends and eventually come together after several heartaches, then I highly recommend The Last Man In The World for delivering such an entertaining romance! While Elizabeth dominated the story with her torn feelings, Mr. Darcy had his moments of vulnerability as a husband hopelessly in love with his wife who does not return his affections yet, if ever.Abigail Reynolds kept this Pride & Prejudice variation short and sweet. An unwanted early marriage seemed to heighten the conflicts that were already present between these two most-beloved characters, and it is almost - just almost - as good as the original Pride & Prejudice ending.I usually don't say this, but I am hoping that Abigail Reynolds will bring back to life Georgiana who might have stolen the show if she had more page time. In the meantime, I may just check out her other Pride & Prejudice "what-ifs" to have more delicious tension between Mr. Darcy and Elizabeth!