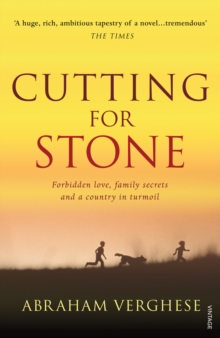 Cutting for Stone
Paperback
Description
My brother, Shiva, and I came into the world in the late afternoon of the twentieth of September in the year of grace 1954.
We took our first breaths in the thick air of Addis Ababa, capital city of Ethiopia.
Bound by birth, we were driven apart by bitter betrayal.
No surgeon can heal the would that divides two brothers.
Where silk and steel fail, story must succeed. To begin at the beginning...
Information
Format: Paperback
Pages: 560 pages
Publisher: Vintage Publishing
Publication Date: 01/12/2009
ISBN: 9780099443636
Free Home Delivery
on all orders
Pick up orders
from local bookshops
Reviews
Showing 1 - 5 of 9 reviews.
Previous | Next
Review by wondersdisciple
16/06/2015
I absolutely loved this book and wish I had read it sooner. The story follows the lives of twins from Ethiopia Shiva and Marion and a host of wonderfully drawn characters.Verghese brings the sights and sounds of Ethiopia to life beautifully. If I had one complaint, and this is being quite picky, it was that the final Third of the book seemed a tad contrived. In saying that I was happy how the book finished.
Review by Mumineurope
16/06/2015
Marion and Shiva Stone, surgeons in Ethiopia and saga from Ethiopia to America
Review by helen295
16/06/2015
Cutting for Stone is the story of Marion and Shiva, the identical twin sons of Sister Mary Joseph Praise, an Indian nun, and Thomas Stone, a British surgeon, who are both working at Missing Hospital in Addis Ababa, Ethiopia. When Mary Joseph Praise dies in childbirth, Thomas Stone refuses to take responsibility for his children and disappears from the hospital. It falls to two of Missing's other doctors, Hema and Ghosh, to give the twins a loving home and ensure their safety amid the political instability and military coups that affected life in Ethiopia in the second half of the twentieth century.Cutting for Stone has an epic feel, spanning several continents and several decades. All of the characters, even the less likeable ones, have a lot of depth and as we learn more about them, we are able to understand what makes them behave the way they do. But at the heart of the story is the relationship between Marion and Shiva. Conjoined twins, born attached at the head, they have a very special bond which is put to the test several times throughout the novel.There are some very detailed and graphic descriptions of surgical procedures throughout the whole book. This didn't really bother me, and a lot of it was very interesting, but I feel I should warn you so that those of you who are squeamish can be prepared! Without even reading the author bio, it was obvious that Abraham Verghese must be a doctor himself because the language he uses is very technical. The fact that the book was written by a physician gives it a real authenticity and the author's own passion for medicine and healing shines through.I think this is the first book I've read that is set in Ethiopia. Before I started reading I knew almost nothing about the country and its political history, but this didn't matter at all as everything was explained in a way that was both informative and easy to understand. Little facts and details were dropped into the story, building up a clear picture of Marion's life in Ethiopia. I love books like this one that leave me feeling that I've really learned something new while being entertained by a great story at the same time!
Review by polarbear123
16/06/2015
This is truly epic storytelling of the highest order. All the characters seem believable and add value to the tale. There are lots of subplots and details about the political history and country the story is set in but these never seem superfluous. Everything works in this book to weave a magnificant heart-wrenching tale. I am squeamish but even I could stomach the incredibly detailed surgery scenes just simply becasue they were so well written. Seems like a huge book to get your teeth into but sue to the high standard of the writing you will sail through this one - I want more!
Review by kaebs
16/06/2015
Great book. Finally, I have read something that I can really recommend again! The story is of twins from before they were born to late in their lives set mostly in a small hospital in Ethiopia. Family relationships, Ethiopian history, a love story, adventure and the bond between twin brothers gives the reader plenty to stay entertained, with the occasionaly tears mixed in. Amazingly this book is written by a Professor in Medicine, who somehow found the time to pull this story together. So maybe its time to forget about all those 'big author' books (on which the authors name is bigger than the title of the book!) and look at some intelligent writing from other sources!