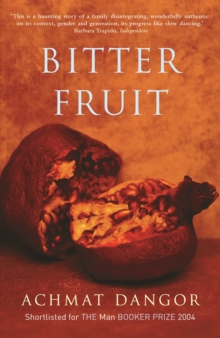 Description
The last time Silas Ali encountered the Lieutenant, Silas was locked in the back of a police van and the Lieutenant was conducting a vicious assault on Lydia, his wife.When Silas sees him again, by chance, twenty years later, crimes from the past erupt into the present, splintering the Ali's fragile family life.Bitter Fruitis the story of Silas and Lydia, their parents, friends and colleagues, as their lives take off in unexpected directions and relationships fracture under the weight of history.It is also the story of their son Mickey, a student and sexual adventurer, with an enquiring mind and a strong will.An unforgettably fine novel about a brittle family in a dysfunctional society.
Information
Format: Paperback
Pages: 288 pages
Publisher: Atlantic Books
Publication Date: 02/09/2004
ISBN: 9781843542643
Free Home Delivery
on all orders
Pick up orders
from local bookshops
Reviews
Showing 1 - 2 of 2 reviews.
Review by Tinwara
16/06/2015
A disappointment.This novel deals with the personal and the political dimensions of post-Apartheid South Africa. One of the main characters, Silas, was involved in the anti-Apartheid struggle and is now part of the new political elite that tries to build a new society. Can the Truth and Reconciliation Committee (TRC) heal the wounds of years of oppression, can it make people forgive and forget? As a politician, Silas would agree, yet in his personal life he experiences that it doesn't. In the years of the struggle, Lydia, Silas' wife, has been raped by a white police officer, while Silas was beaten up in a policevan. Lydia and Silas never talked about what happened, however, the story of this novel is set into motion as Silas accidentally runs into this (former) police officer. He goes home and tells Lydia. This brings back to Lydia the memories and the pain of the actual event and of the years of silence in the relationship between Silas and her. She wounds herself by walking in glass and ends up in hospital. Still, the couple can't find ways to discuss what happened. Silas flees into work, thereby estranging himself from Lydia for ever. So far, a moving story of the longlasting effects of the years of Apartheid and oppression, and an interesting insight in South African society. What happens next however is a series of events, that involve alot of sexual fantasies, sexual relationships between people of very different age groups, incestuous feelings and relationships even, that made me think that this society is very sick. As if, by using sexual oppression as a means of racial oppression, the oppressors caused a trauma that runs much much deeper than the wounds that the TRC could ever heal. Then there is also the rather unbelievable storyline of Mickey, Lydia's son, who turns to his Muslim non-family to seek help for revenge on the man who raped his mother. It seemed a bit too easy and clichéed to me, to use Muslims to help Mickey get weapons and get away with crime. To once again create an almost logical connection between a person starting to study the Koran and violence. The subject of this book is interesting enough, however I got more and more fed up with all the sexual events, that seemed rather self repeating after awhile, and as said, the clichéed use of Muslims as terrorists. So, no, I would not recommend this book to anyone. Which is a shame really, with such an interesting topic.
Review by Bagpuss
02/03/2016
Apartheid is over and Silas and Lydia have moved out of the township to a suburb of Johannesburg. Silas works as a lawyer for the Department for Justice and his wife Lydia is a nurse. The pair are haunted by a past cruelty towards Lydia and they seem trapped in a loveless marriage, staying together because that's easier than parting. Living with them is their 18-year-old son Mickey who is studying literature at university. He and his parents have problems communicating with each other. <br/><br/>One day whilst out, Silas recognises a man called François du Boise, an Afrikaner policeman and the man who caused so much misery to Silas and Lydia 20 years ago when he raped Lydia whilst Silas was forced to listen. Silas makes the mistake of telling Lydia of the encounter and she reacts by dancing on broken glass, leading to her being hospitalised. <br/><br/>Mickey goes off the rails and his parents discover that he has had an affair with two older women – a colleague of Silas' and with one of his university lecturers. Mickey decides to track down his estranged paternal grandparents, who are Muslim and as he spends increasing amounts of time with them he becomes even more withdrawn from his mother and father as their relationships crumble. <br/><br/>Overall I found this rather an unsatisfactory book. I did not warm to the characters at all, which made it hard to have any empathy with them. Had South Africa not been a country I needed to do for my World Challenge then I wouldn't have continued with it.<br/>
Also by Achmat Dangor