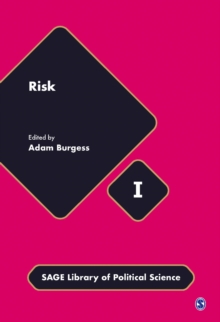 Description
The notion of risk, and the associated concepts of hazard, uncertainty and probability, is a modern one.
Such is our preoccupation with anticipating and trying to manage the future living in a 'risk society', according to Ulrich Beck's famous account.
The study of risk - as an at least partially social phenomenon of the modern world - is an even more recent development than the term itself.
Risk-related research has increased exponentially since its beginnings in the late 1960s, indicated by the array of specialist journals such as Risk Analysis, Journal of Risk Research and Health, Risk and Society.
From original concerns with public perception of risk from technology, food, health, environment and media it has expanded into many new areas, such as terrorism and child safety.
This major work brings together articles that have made an impact and have implications beyond their disciplinary field or topic area, and the literature is organised into the following thematic volumes: Volume One: Psychological - and American - Origins Volume Two: Social Turn and Social Theories Volume Three: Regulation Governance and Applied Studies Volume Four: Consequences, Debates, Implications
Information
Format: Hardback
Pages: 1288 pages
Publisher: SAGE Publications Ltd
Publication Date: 23/12/2016
Category: Politics & government
ISBN: 9781473930247
Also in the Sage Library of Political Science series | View all