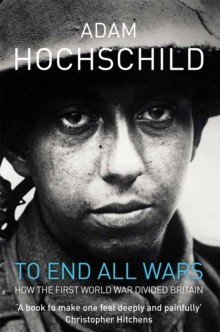 To End All Wars : A Story of Protest and Patriotism in the First World War
Paperback
Description
In this brilliant new work of history, Adam Hochschild follows a group of characters connected by blood ties, close friendships or personal enmities and shows how the war exposed the divisions between them.
They include the brother and sister whose views on the war could not have been more diametrically opposed -- he a career soldier, she a committed pacifist; the politician whose job was to send young men who refused conscription to prison, yet whose godson was one of those young men and the suffragette sisters, one of whom passionately supported the war and one of whom was equally passionately opposed to it.
Through these divided families, Hochschild paints a vivid picture of Britain poised between the optimism of the Victorian era and the era of Auschwitz and the Gulag -- a divided country, fractured by the seismic upheaval of the Great War and its aftermath.
Information
Format: Paperback
Pages: 356 pages
Publisher: Pan Macmillan
Publication Date: 01/02/2012
Category: British & Irish history
ISBN: 9780330447447
Free Home Delivery
on all orders
Pick up orders
from local bookshops
Reviews
Showing 1 - 1 of 1 reviews.
Review by Widsith
27/08/2015
A book that brilliantly succeeds in finding a new way to talk about the First World War, by looking at the protesters and conscientious objectors who opposed it along the way. I must admit, in my head antiwar protests started sometime around the 60s with Vietnam; but it turns out that the British peace movement during 1914–18 is one of the most impressive in history.So riveting are many of the details here that you end up feeling amazed and annoyed that they aren't included in more general histories of the conflict. I've read countless thousands of words on John French over the last year, yet I somehow had no idea that the field marshal's own sister was Charlotte Despard, one of the most intransigent, outspoken activists of the period. Despard denounced 'the wicked war of this Capitalistic government' while her brother was busy orchestrating it – and yet the two of them were as close as ever, regularly visiting each other and writing off their siblings' political views as charming quirks.Despard also championed many other progressive causes of the time, notably women's suffrage. The so-called suffragettes are a key part of the story, and a good illustration of how divided liberal activists were when the war broke out. Emmeline Pankhurst and her daughter Christabel went from planting bombs in Lloyd George's house to working hand-in-hand with him from speaking-platforms and in editorials: 'If you go to this war and give your life,' Emmeline told a cheering crowd in Plymouth, 'you could not end your life in a better way – for to give one's life for one's country, for a great cause, is a splendid thing.' An argument that became impossible after Owen.Perhaps it helped cement the votes-for-women movement as being within the establishment – sure enough, women were enfranchised in 1918 before the war ended. Nevertheless as a modern reader all your sympathies are with the younger Pankhurst daughter, Sylvia, who remained absolutely committed to the antiwar movement and was more or less thrown out of her own family as a result. Sylvia's secret lover – the pacifist independent MP Keir Hardie – is another key character in here, and one I'd previously known nothing about. Both of them were shunned, isolated, mocked.Bertrand Russell also flits in and out of these pages, a towering moral presence. Every time I read about him I admire him more and more. Russell was jailed for six months for his antiwar activism (when the warder took down his details on arrival, he asked Russell's religion, and he replied, 'agnostic'. Asking how to spell it, the warder sighed, 'Well, there are many religions, but I suppose they all worship the same God'). He still managed to keep in touch with two of his lovers while in prison, too – he wrote to a French actress in French, a language his jailers couldn't understand, and sent letters to another woman smuggled out in copies of the <i>Proceedings of the London Mathematics Society</i>, which he told her was 'more interesting than it appeared'.Hochschild does a brilliant job not just in uncovering the activities of these characters, some of whom have been comprehensively neglected, but also in tying their stories together: the narrative often reads like a novel with a large but interconnected cast. The whole thing is animated by a steady but unintrusive sense of injustice, and the writing is clear, notwithstanding a few foibles (he deploys, for instance, that odd American hypercorrection 'felt badly').What's particularly sad, after following these people for so long, and hoping for some kind of victory on their behalf, is seeing how desperately almost all of them latched on to the Russian Revolution in 1917. It's a harsh but enlightening test of moral character to see how quickly people could bring themselves to bail on the Soviet dream when things started going wrong – not a test many leftists passed with flying colours (but that's a story better told elsewhere). And overall, this <i>is</i> a story of failure and disappointment, though the tone is moving and hopeful rather than depressing. The title points up the overarching irony. President Wilson had called the slaughter the 'war to end all wars' – but Sir Alfred Milner was more prescient in 1918 when, peering into the future as the bodies were cleared away, he described the Treaty of Versailles as 'a Peace to end Peace'.