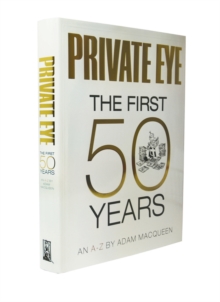 Private Eye the First 50 Years : An A-Z
Hardback
Description
To mark the 50th anniversary of the magazine in 2011, Adam Macqueen has produced a fascinating A-Z history of Private Eye.
Information
Format: Hardback
Pages: 312 pages, ill
Publisher: Private Eye Productions Ltd.
Publication Date: 01/09/2011
Category: Humour
ISBN: 9781901784565
Free Home Delivery
on all orders
Pick up orders
from local bookshops
Reviews
Showing 1 - 2 of 2 reviews.
Review by the.ken.petersen
16/06/2015
Private Eye is a wonderful publication that so often proves the old adage, "You just couldn't make it up". The true bits are so often more ridiculous than the jokes. This book is, in equal part, a history of the Eye and a review of the more famous (infamous?) stories that have appeared over 50 years. There is, perhaps, nothing more delightful than a group of public school boys (and yes, they are almost exclusively boys) who reject the elitism that is expected of there breed. Ingrams and Hislop have, for 50 years pricked the bubble of assured arrogance that surrounds so many of these "chaps". I have always admired the way that, hidden amongst the jokes is some of the most cutting edge reportage available to the reader. Eye regularly exposes scandals to which the hard nosed reporters of the press have turned a blind eye, for fear of upsetting an advertiser.This book does explain the nascent germ of many of the characters found in the Eye over the years and has a descent biography of all the main players: above all, it retains the anarchic humour for which the magazine is rightly famed. If you claim an interest in humour, or politics, and you have not purchased this book, then your claim is erroneous.
Review by Schopflin
16/06/2015
This handsome volume was given to me as a present, which baffled me slightly, as I've never been a Private Eye reader, but I loved it. The magazine's history is a history of British news and satire since the 1960s and includes intriguing and interesting characters such as Peter Cook, Willie Rushton, Richard Ingrams and Auberon Waugh. There's a fascinating insight into less well-known or flamboyant characters, including the editor Ian Hislop. I started off reading it in the non-linear fashion for which it was designed (although cross-references are cleverly used to tell stories) and ended up going through alphabetically to make sure I hadn't missed anything. As you might (or perhaps might not) expect, it's also very funny!