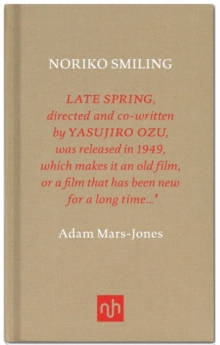 Description
'Late Spring, directed and co-written by Yasujiro Ozu, was released in 1949, which makes it an old film, or a film that has been new for a long time...' So begins this remarkable essay in narrative reconstruction, which elicits a world of meanings from the reticences of one classic Japanese movie, and reserves to the very end a resolution of its mystery.
Adam Mars-Jones gives a virtuoso comeback performance as that lost figure from the earl days of cinema: the film explainer.
There has never been a film book like this one.
Information
Format: Hardback
Publisher: Notting Hill Editions
Publication Date: 01/09/2011
Category: Literary essays
ISBN: 9781907903458
Free Home Delivery
on all orders
Pick up orders
from local bookshops
Reviews
Showing 1 - 1 of 1 reviews.
Review by RandyMetcalfe
16/06/2015
There is a great deal to like in Adam Mars-Jones' extended essay on Yasujiro Ozu's 1949 film <i>Late Spring</i>. Like the renowned <i>benshi</i> narrators who accompanied the virtuoso performances of silent films in Japan's pre-talkie film era, Mars-Jones steps through Ozu's film with us from establishing shot to final image. At times he offers almost a frame by frame study pointing up oblique glances or nuanced non-committal grunts from lead actor Chishû Ryû whose import might be lost on a first (or tenth) viewing. This can be illuminating. It makes <i>Noriko Smiling</i> well worth reading by Ozu fans despite whatever other drawbacks may be present in the text.The book as a whole consists in one long essay that, apart from the scene-by-scene and near-shot-by-shot description, canvasses the wide range of commentary that has been written on Ozu, and <i>Late Spring</i> in particular, by film critics, Japanologists, and even historians of censorship. It is clear that Adam Mars-Jones is well versed in the critical background. But at this point a couple of unfortunate habits of his post-modern essay style come to the fore. He repeatedly disavows any specialist knowledge, frequently (apparently) undercutting his authority by appealing to Wikipedia and the buzz on Internet to support his points (or to rail against). Sometimes these come in the form of asides, sometimes in the form of explicit (proud?) claims to ignorance. None of them can be taken seriously, and cumulatively they present as a kind of argumentative tic or, since they are clearly deliberate, posturing. The effect is not unlike a famous American academic philosopher from Harvard giving a talk on metaphysics but with an "ah-shucks, I'm just a country boy, y'know" patter. Maybe it works on radio; in print it just looks silly.The other aspect of the book which, I think, many readers will find distasteful is Mars-Jones' invariable need to belittle, mock, chastise, and outright dismiss every critic to whom he refers in the course of the essay. That kind of camp snarkiness might work in short doses on BBC Radio 4 (where you can sometimes find Mars-Jones appearing) but in an essay over 200-pages long, it just comes across as shrill.I said above that these were unfortunate habits. They are unfortunate because they are unnecessary, contributing nothing to Adam Mars-Jones' eventual interpretive stance, and distracting, since one might well suspect that it is the snide comments that are the real point of writing such an essay. In the end, Mars-Jones has a useful interpretive suggestion for how to read Ozu's <i>Late Spring</i>. And while I disagree with it, I won't do him the same disservice that he offers other critics of dismissing it out of hand and then repeatedly mocking the person over the ensuing text. I'll just let you decide for yourself. If you can ignore the stylistic dross, then <i>Noriko Smiling</i> is well worth reading, whether or not you ultimately agree with Adam Mars-Jones' interpretation.