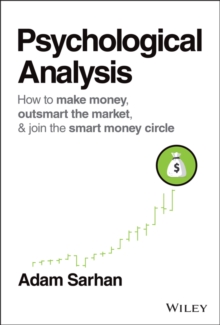 Psychological Analysis : How to Outsmart the Market One Trade at a Time
Hardback
Description
Fact: Most people do not beat the market. This book was written to change that statistic and skew the odds of success in your favor.
There are many reasons why most people fail to achieve their investment goals but the one common denominator is that most people follow the crowd and are doing the same thing as everyone else.
This book introduces and sheds light on a new school of thought, coined by the author, titled Psychological Analysis (PA) for investing/trading in capital markets.
Conventional wisdom tells us that there are two primary schools of thought: fundamental and technical analysis.
How many times have you seen a market (or stock) with "poor" fundamentals and/or technicals go up--or "great" fundamentals and/or technicals go down?
Happens all the time--clearly something is missing. PA fills that void. After studying every major economic and market cycle going back to the 3rd century, Adam coined the term Psychological Analysis for capital markets.
His research found that the one constant throughout every major boom and bust in history has been psychology.
The truth is human nature never changes. If you walk into a crowded theater anywhere in the world (or at any point in history or in the future) and yell FIRE!
The reaction will be the same--the crowd will panic and flee.
The same is true for how people react to markets (stocks, bonds, currencies, commodities, real-estate, tulips, etc).
Bubbles and bursts happen all over the world, they always have and always will.
History is littered with countless booms/busts from different centuries, cultures, religions, race, languages, markets (tulips, real-estate, stocks, etc), just to name a few.
This evidence clearly illustrates that human nature doesn't change and that there are more factors that influence price than just fundamental or technical analysis.
Fear and greed are the two primary emotions that drive markets and are the primary driver for major market moves in history--up and down.
Adam introduces this third school of thought and shows you what is missing in the investing world.
Information
Format: Hardback
Pages: 256 pages
Publisher: John Wiley & Sons Inc
Publication Date: 03/11/2020
Category: E-commerce: business aspects
ISBN: 9781119282044
Free Home Delivery
on all orders
Pick up orders
from local bookshops
Also in the Wiley Trading series | View all