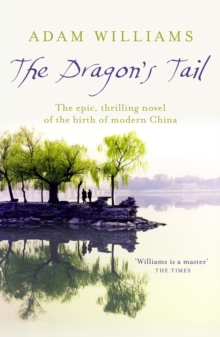 The Dragon's Tail
Paperback
Description
Harry Airton, a Scottish fisherman, has China in his blood.
A chance encounter with a spook during the Korean War gives him the opportunity to return to the land of his birth and serve his goverment at the same time.
They hatch a long-term plan to create the perfect spy: a triple agent with a cover that cant be broken, because its genuine. What Harry doesnt realise is that if he is setting the perfect trap, the Communist Chinese may also be finding the perfect bait. And that as the Cold War escalates and China marches towards Cultural Revolution and the end of the twentieth-century, the fates of two people who love each other are entirely unimportant
Information
Format: Paperback
Pages: 608 pages, n/a
Publisher: Hodder & Stoughton General Division
Publication Date: 01/07/2008
Category: Historical fiction
ISBN: 9780340899120
Free Home Delivery
on all orders
Pick up orders
from local bookshops
Reviews
Showing 1 - 1 of 1 reviews.
Review by pgmcc
16/06/2015
This was not, "The epic, thrilling novel of the birth of modern China", as it is portrayed on the front cover. Yes, it is a novel, and yes, it spans the period from just before the Japanese invasion to just after the 1989 tragic events of Tiananmen Square; but it is not an epic.There are three main characters; Harry Airton, a British citizen who was the son of a doctor and teacher who worked in China, hence Harry's early life being in China and his ability to speak fluent Chinas with a local accent; Chen Tao, son of the Airton's cook, who becomes an early friend of young Harry, or "Ha Li", as he is called by his Chinese friends and colleagues; and Ziwei Peng, the daughter of Harry's mother's friend from her college days in England.Let me comment on what I liked about this book before I list its flaws.Adam Williams knows China well, and he has supplemented his own knowledge with a lot of sound research, as evidenced by the references in his afterword and be the detail of China, its history and the public events and characters in the book. While reading this book I learnt a lot about Chinese history of the 1950s to 1980s that I had hitherto only had a sketchy impression of from growing up during that period and picking snippets up from news programmes and documentaries (for instance detail of what the Cultural Revolution was about and what happened during it).The problems I had with the book were threefold. Firstly, there were too many coincidences. Of course, a piece of fiction needs a number of coincidences to work, but the underlying human story were countless. I'm afraid there were just too many for me to forgive as necessary poetic licence. When I read the first part of the book, "Harry's Story", in which the three main characters were introduced, I thought to myself, "An obvious plot would be…But I'm sure the story will not go along those lines. It would involve too many coincidences." I was wrong.Secondly, transitions were involved at different parts of the story for the characters. I found these were handled in a rushed fashion and did not ring true, given that they necessitated changes in personality that were not credible. This could be found in the actions of each of the three characters.Finally, Murphy's Law was not active enough. Particularly in the first part of the novel, things happened too easily. There was a lot of "setting things up" to create the plot elements required for the rest of the book. The book would have benefitted from a few more screw-ups at this stage.In conclusion, this is a beautiful love story; it includes much information about the modern history of China, but it strives to be an epic novel also, and there lies the rub. I see the plot as being driven by the love story, but the overall story losing credibility from having to rely so much on incredulous coincidences to make the love story work.