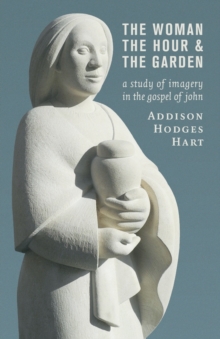 Woman, the Hour, and the Garden : A Study of Imagery in the Gospel of John
Paperback / softback
Description
Was Jesus ever married? Yes, indeed, says Addison Hodges Hart, who boldly asserts that the church's tradition has always regarded Jesus as "married" - but not in the way that recent sensationalist writers have claimed.
Rather, Christ is "the Bridegroom" of "the Woman" in John's Gospel. In this book Hart explores John's rich, poetic imagery, particularly the metaphorical significance of "the Woman," embodied and imaged by Mary the mother of Jesus, the Samaritan woman, and Mary Magdalene.
Hart shows what this image reveals about salvation, personal holiness, and the church as a whole.
Inspired himself by the writings of early church fathers and medieval theologians, Hart presents John's Gospel as an incarnational, sacramental text and shows that it is primarily a revelation of salvation, deeply mystical and intended to lead its readers into a living relationship with the One who is the Bridegroom of his people. ADVANCED PRAISE:"The best books are short and deep, and The Woman, the Hour, and the Garden is just such a book. . . With the help of Christian art and piety Hart shows that `woman' is an icon of the gathered community, which leads to the bold conclusion that Christ is indeed married and has taken a bride, the church.
This is a book for meditation, to be read slowly with the text of the Gospel in hand." - Robert Louis Wilken, University of Virginia
Information
Format: Paperback / softback
Pages: 96 pages
Publisher: William B Eerdmans Publishing Co
Publication Date: 29/03/2016
ISBN: 9780802873392
Free Home Delivery
on all orders
Pick up orders
from local bookshops
Also by Addison Hodges Hart