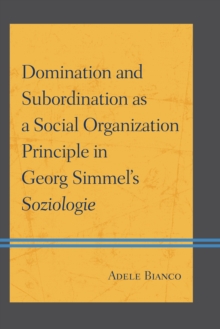 Domination and Subordination as a Social Organization Principle in Georg Simmel's Soziologie
Hardback
Description
Analyzing Georg Simmel's theory of domination and subordination as presented in his Soziologie (1908), Adele Bianco focuses on concrete case studies to derive an interpretation of globalization processes.
Within sociology, domination and subordination are reciprocal.
They represent constitutive modes of associated living, based on a hierarchical structure.
Domination and subordination reflect social configurations, but are very controversial categories.
Sometimes perceived as a justification of the status quo, they also run the risk of legitimizing the perpetuation of inequalities.
In truth, they are tools to help us understand social order and identify inequalities' regulating structures. Domination and Subordination as a Social Organization Principle in Georg Simmel's Soziologie begins by defining the relationship between domination and subordination at the micro level-the relationship among subjects.
Then, after discussing the macro level, Bianco employs a variety of case studies to expose the intricacies of Simmel's domination and subordination theory.
The ensuing discussions of democracy, employment relationships, social relationships, and globalization answer such questions as: Why is society divided between a top and a bottom?
What does it mean to wield authority? What degrees of power are held by those in a position of inferiority?
Why is the strong subject ultimately in need of the weak subject?
What can be said of a majority winning in a democracy, and what is the minority left with?
How can the social condition of the modern worker be reconciled with his proclaimed freedom? (and) What does subordination to the employer effectively comprise?
Scholars and students of sociology, social theory, labor studies, and psychology will benefit from this book's combination of intricate theories and real-world case studies towards a comprehensive theory of modern globalization.
Information
Format: Hardback
Pages: 160 pages, 4 Tables, unspecified
Publisher: Lexington Books
Publication Date: 16/07/2014
Category: Development studies
ISBN: 9780739178423
Free Home Delivery
on all orders
Pick up orders
from local bookshops