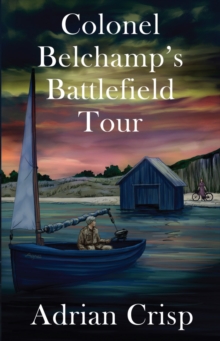 Colonel Belchamp's Battlefield Tour
Paperback / softback
Description
It is May 1964. Devastated by the recent death of his small son, James Butland joins a tour of the 1940 battlefields in France where he served as an 18-year-old in the defence of Calais.
There he reviews his own life, the conflicts of growing up in the interwar years and the approach of war in 1939.
At the threshold of going to Oxford University, war is declared and James is plunged, not unwillingly, into the role of a soldier.
Wounded in the defence of Calais in May 1940, he is hidden from the Germans by a French medical student, Agnes, and following a brief affair, she helps him to escape to England.
James volunteers for the bitter campaign in Tunisia where he is again wounded, and is discharged from active service.
He resolves to replace killing with saving lives and influenced by Agnes's example, he chooses to study medicine.
After graduating, James's career flourishes in London.
However, his family's new life is shattered by the death of his 9-year-old son in a road accident.
On a whim during his return to the 1940 battlefields in 1964, James traces Agnes.
When Agnes bluntly informs him that their son, Alexandre - a French name cruelly sharing its origin with Alasdair, the name of his dead son - was born in 1941, James despairs.
After some soul-searching, James comes to realise that his love for Agnes during the war was real and still breathes.
Their resuscitated love offers the prospect of some happiness.
Colonel Belchamp's Battlefield Tour is a poignant and moving tale that will appeal to those with an interest in the human impact of war and its aftermath.
Information
Format: Paperback / softback
Pages: 272 pages
Publisher: Troubador Publishing
Publication Date: 11/05/2017
Category: Historical fiction
ISBN: 9781788036818