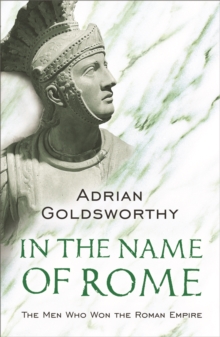 In the Name of Rome : The Men Who Won the Roman Empire
Paperback
Description
The complete and definitive history of how Roman generals carved out the greatest and longest-lasting empire the world has ever seen.The Roman army was one of the most effective fighting forces in history.
The legions and their commanders carved out an empire which eventually included the greater part of the known world.
This was thanks largely to the generals who led the Roman army to victory after victory, and whose strategic and tactical decisions shaped the course of several centuries of warfare.This book, by the author of THE PUNIC WARS, concentrates on those Roman generals who displayed exceptional gifts of leadership and who won the greatest victories.
With 26 chapters covering the entire span of the Roman Empire, it is a complete history of Roman warfare.
Information
Format: Paperback
Pages: 480 pages, 15 Maps
Publisher: Orion Publishing Co
Publication Date: 19/08/2004
Category: European history
ISBN: 9780753817896
Free Home Delivery
on all orders
Pick up orders
from local bookshops
Reviews
Showing 1 - 4 of 4 reviews.
Review by MatthewN
16/06/2015
I loved this book! I ended up buying more of his books because of it. The Romans are fascinating from a military standpoint. This book did not bore me like Gibbon's "Decline and Fall of the Roman Empire" did. This is my favorite book on the Romans without a doubt.
In the Name of Rome is a book in which Adrian Goldsworthy offers a collection of chapters on various Roman generals - such as Scipio Aemilianus, Julius Caesar, Germanicus, and Belisarius - to examine the Roman military, its interaction with politics, how warfare was conducted which essentially allows Goldsworthy to treat a biographical subject and particular battles as a window into Roman society at several points between the Second Punic War until the decades of Justinian and the early Byzantine Empire. In doing this Goldsworthy crafts an exceptionally lucid and engaging chronicle that was frequently hard to put down. Instead of just examining particular commanders or battles and then deriving lessons from them and showing us how and why commanders proved victorious - though he does do that - Goldsworthy manages to show us how the Roman military changed throughout the period. Often and most importantly, he links the changes and their effects to the realm of politics in the Roman state - for instance how the decrease of small farmers after the Second Punic War and into the late Republic allowed for commanders to develop greater bonds with their legions as legionaries were now frequently poorer and more indebted to their aristocratic commanders who in turn could use this for leverage over the government back in Rome - helping to bring about civil war and drastically helping the careers of several such as Sulla, Pompey, and Caesar. In the late Principate and Empire periods the increased dependence on the military for keeping political power ensured that emperors would need to keep their soldiers increasingly placated as those willing to claim the Purple could raise large revolts when units viewed their services to the Emperor as insufficiently rewarded. My only gripe was the lack of maps in several chapters and the varying quality of those provided - otherwise an excellent and highly enjoyable read.
Review by JohnNebauer
16/06/2015
An interesting selection of military figures. Each biography is situated with in the changes that defined the Roman military. For example the chapter on the Emperor Julian also describes the declining importance of Rome as a political centre as the making and unmaking of emperors shifts to the army. This makes the process of obtaining the purple much easier, but as a consequence harder to retain as military units tended to back claimants that they felt would reward them.Absolutely absorbing.
Review by MisterJJones
16/06/2015
Goldsworthy's book is informative, entertaining, comprehensive and thoroughly researched - it's a shame I can't think of many people who would enjoy it.In 16 chapters he covers Roman Generals from Fabius to the fall of Rome in the east, and finds plenty of space to outline the major political and social changes, as well as detailed descriptions of the major battles and campaigns, all referenced with discussions of the various sources, where appropriate. It's a concise summary of what I imagine must represent years of scholarship.The middle chapters, probably the most familiar to the general audience (and the reason I bought the book) cover Marius, Pompey and Caesar, but I was particularly taken with one of the later chapters covering Trajan's conquest of Dacia, which used descriptions of the inscriptions on Trajan's column in Rome. Goldsworthy does a great job of piecing together a readable narrative from what we can reconstruct, whilst at the same time maintaining an academic tone and not degenerating into speculative storytelling.The breadth of material covered means the reader sometimes has to work a little hard to keep up. New names of legions, notable figures, and places were introduced often enough that I found myself keeping google open while I read. Goldworthy's determination to cover all relevant material 30 page chapters makes me wonder whether someone new to the subject matter would enjoy reading it, or whether too much information is presented, too quickly. Goldsworthy makes clear in the introduction that he didn't intend a general recipe book for military success, even less so a guide for those seeking a Roman road to leadership quality. It's a little too broad in approach to appeal to those seeking academic insights. For people like me, who have a rusty memory of a university course taken years ago, it's perfect. I just hope there are enough people who fit into this category to make sure Goldsworthy's books continue to be a commercial success.