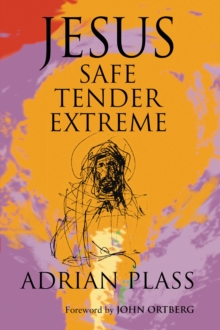 Jesus - Safe, Tender, Extreme
Paperback
Description
People long for reality in their walk with Christ. To attain that heartfelt need, Adrian Plass in his profound but endearing style engages with three deeply significant aspects of Jesus - how he is safe, tender and extreme.
The safety we find in Jesus is only discovered at a price, which may be suffering or the witnessing of suffering.
Jesus himself was able to battle through the agony of Gethsemane because at the deepest level he was safe in the love of his Father. And he also knew that obedience is the surest path to ultimate security.
Are we able to embrace the safety of Jesus?The tenderness of Jesus can be one of the most life-sustaining things of creation.
We can see it in the people around us and we can see it in the Bible, such as in accounts of Jesus himself, especially his dealings with the widow of Nain.
Many people may find it difficult to receive the tenderness of God, but, like Peter confronted with his rooftop vision, we may be called to a new understanding and a fresh revelation.
Do we experience the tenderness of Jesus?The extreme Jesus was actually, from a divine perspective, not extreme at all.
After all, Jesus only ever did what he saw his Father doing.
Some of his behaviour may seem trivial or mundane to us while other actions appear dramatic, such as clearing out the temple with a knotted rope, asserting that a dying girl was actually asleep and would soon be awake, or being extremely rude to important people.
All of his actions reveal his total commitment to obedience.
Whatever needed to be done would be done, regardless of how it would appear to human eyes.
Is Jesus the solid ground on which our feet stand? With him at the centre of our lives are we willing and able to be extreme for God in the big and little and mild and dramatic and banal and bizarre acts of service that are required of us?Each of the three sections is accompanied by personal experiences of encountering Jesus, safe, tender and extreme, some of them very raw indeed, and the book ends with a selection of prayers for readers who would like to respond to the issues that have been covered.
Information
Format: Paperback
Pages: 304 pages
Publisher:
Publication Date: 16/12/2005
Category: Christianity
ISBN: 9780310268994
Free Home Delivery
on all orders
Pick up orders
from local bookshops
Reviews
Showing 1 - 1 of 1 reviews.
Review by SueinCyprus
02/03/2016
Excellent! Adrian Plass in his more serious writing style, with light anecdotes and a friendly way of putting things. The book looks at what it really means to follow Jesus, without religious jargon or pretence. <br/><br/>It's divided into three sections, so the first part looks about being safe in Jesus. I could relate most strongly to the second section of the book, about the tenderness of Jesus: the compassion with which he dealt with everyone, both friends and questioners, and even his enemies. <br/><br/>The final section was perhaps the most thought-provoking: that of Jesus as an extreme person, never afraid to do what was right or to speak out when it was time to do so. Adrian Plass gives a hint of how exciting life can be when listening and then 'doing what the Father is doing'. <br/><br/>Each section has a few chapters outlining the themes, followed by anecdotes illustrating what these mean in the author's own life and those around him. At the end of the book are a series of relevant prayers. I'd have preferred these to be with the main parts of the book. But it's a small niggle. It's a very well-written book that I should probably dip into more often than I have done, as there's a great deal to absorb and much to think about.<br/><br/>Very highly recommended.