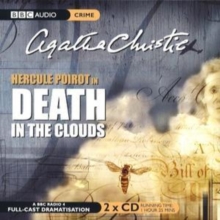 Death in the Clouds
CD-Audio
Description
To distract himself from his fear of flying, Hercule Poirot observes his fellow passengers on the noon flight from Le Bourget to Croydon.
On his right sits a pretty young woman, clearly very aware of the handsome man opposite her; ahead of him is a nervous aristocrat and her maid; and across the aisle is a writer of detective novels, troubled by an aggressive wasp.
Lulled into drowsiness by a sedative he has taken, Poirot abruptly awakens when the woman behind him is found dead.
A reaction to a wasp-sting is suggested, but Poirot discovers that a poisoned dart is the real cause - and a blow pipe is discovered stuffed down the back of his own seat.
The murderer can only be one of the eleven passengers in the rear of the plane, or one of the stewards.
The dead woman was a moneylender to the upper classes, so the Countess, addicted to cocaine and gambling, is an obvious suspect. Or could it be the detective writer, trying out a plot for his new book?
No-one is above suspicion: not even Poirot himself. He must unravel this baffling mystery - if only to clear his own name...John Moffatt stars as the great Belgian detective, with Philip Jackson as Inspector Japp. 2 CDs. 1 hr 25 mins.
Information
Format: CD-Audio
Publisher: BBC Audio, A Division Of Random House
Publication Date: 03/05/2004
Category: Crime & mystery
ISBN: 9780563530435
Other Formats
Paperback from £6.15
Hardback from £10.65
CD-Audio from £12.15
EPUB from £5.24
eAudiobook MP3 from £4.95
Free Home Delivery
on all orders
Pick up orders
from local bookshops
Reviews
Showing 1 - 1 of 1 reviews.
Review by suefitz1
16/06/2015
# 10<br/>Title: Death in the Clouds<br/>Author: Agatha Christie<br/>Genre: Mystery<br/><br/>Challenges: Winter Reading Challenge 2009, TBR Challenge 2009 , A to Z Reading Challenge, 2009 Support Your Local Library, 2009 Audiobook Challenge, 20 Books in 2009, Pages Read Challenge 2009, Agatha Christie Challenge 2009, 101 Books in 1001 Days Challenge<br/><br/>Rating: 4/5<br/>No. of Pages: Audio Complete &amp; Unabridged (5 CDs)- (333)<br/><br/>Published: Originally 1935 (Audio 2001)<br/><br/>From the back:<br/>On an airplane bound for London from Paris, one of the eleven passengers is dead. The small red puncture wound on the woman's neck might have been accepted as a sting from a wasp, but luck is not on the killer's side. Hercule Poirot is aboard the plane, and he discovers a thorn typically used with a blowpipe near the victim's feet. As he tackles the case suspicion points in all directions, even back to Poirot when the blowpipe is found tucked behind his seat. Can Poirot prevent the culprit from getting away with murder?<br/>Mine:<br/><br/>Poirot must round up the usual suspects (the 9 passengers left) and narrow down the who did it. It seems like a daunting task – there are twists at every turn. The least likely suspect might be guilty, then again maybe not. Well we do know that Poirot is not guilty.<br/>