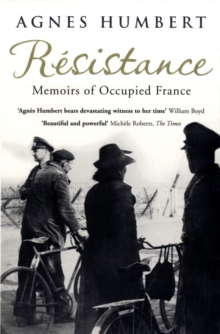 Resistance : Memoirs of Occupied France
Paperback
Description
In the summer of 1940, as the German Occupation tightened its grip on Paris, Agnes Humbert helped to establish one of the first resistance cells.
Within a year the group was publishing a news bulletin, helping allied airmen escape and passing military information back to London.
Then came the catastrophe of betrayal, followed by arrest and interrogation, imprisonment and trial and, for Agnes, deportation to slave labour camp in Germany.
Resistance is the secret journal of a woman who never gave up hope.
Information
Format: Paperback
Pages: 384 pages
Publisher: Bloomsbury Publishing PLC
Publication Date: 06/07/2009
Category: Diaries, letters & journals
ISBN: 9780747596745
Free Home Delivery
on all orders
Pick up orders
from local bookshops
Reviews
Showing 1 - 3 of 3 reviews.
Review by robertgriffen
16/06/2015
A remarkable account,very harrowing to read in part. The writer is quite outstanding because although having suffered unbelievable horrors at the hands of the Germans, she still manages to inject humor in the most unexpected places. The first part of the book is a daily diary, and therefore a primary source of information; the middle(and main) section was written immediately after the defeat of Germany, so it is still an immediate account.For any student of WW11 this should be part of the research.
Review by chrissie3
16/06/2015
I am recommending this book to anyone interested in the political agitators that sought to fight the Nazis. I consider it one of the better books written on the subject. It begins and ends with transcripts of the author's diary entries. The first date from June 1940 to April 1941, ending two days before the author's interrogation by the Gestapo. The final diary transcripts date from April 1945, four years later, after American liberation. The intervening section was written immediately after the war. It covers her imprisonment, trial, deportation to Germany and life as a slave worker, classified as a political criminal. The book was first published in 1946 and it was one of the first of its kind. Its immediacy, the author's candor and rambunctious spirit shine throughout. This is a remarkable book. The author has something vital to tell us and she does it with precision, candor, spirit and humor. Humor in a book detailing the life in labor camps? Yes, biting humor! Humor, when the situation is as bad as it is, almost hurts.<i>I get back from the factory after a truly grueling night, prostrated with exhaustion. I am going to sleep like a log, I know. But then I see my bunk is already occupied. I start to make a fuss, but a plaintive voice beneath my blankets soon pulls me up short: 'Oh please, please, don't be angry. I haven't got lice and I haven't made your bed dirty. 'I discover this is the new regulation. For lack of space, the day shift and the night shift will take turns to sleep in the same bunks. From now on we will find our bunks already warmed for us. How delightful. </i> (page 151)I marked line after line that I wanted to quote, but I simply cannot put them all here. One example will have to suffice.Agnès Humbert (Oct 12, 1894 – Sept 19, 1963) was a mature woman of forty-six at the date of her first diary entries. She had a solid political background. An art historian, she is articulate, well-educated, committed and passionate. As a member of the fledgling French Resistance, as one with vivid war experiences of life in labor camps and as one there in the confusion of the war's aftermath, she describes it all, simply and powerfully. She experienced it all, and she has a remarkable writing ability. All parts are written in the first person present tense. This was one of the most difficult war books I have ever read, difficult simply because she makes it so very real and she makes the reader care. Completed April 19, 2013
Review by aine.fin
27/08/2015
Great opportunity to learn about the Resistance and the treatment of the French under the Nazis. Incredible story very well written. Got a little long and repetitive but that was what happened to her!