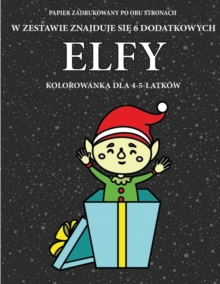 Kolorowanka dla 4-5-latkow (Elfy) : Ta książka zawiera 40 stron bezstresowych kolorowanek w celu zmniejszenia frustracji i zwiększenia pewności siebie. Książka ta pomo&#3
Paperback / softback
Description
Czy szukasz zabawnego i angazujacego umyslowo sposobu, który pomoze Twojemu dziecku rozwijac i doskonalic swoje umiejetnosci motoryczne?
Potrzebujesz prostego, ale ekscytujacego sposobu, aby pomóc dziecku w nauce podstaw rysowania i ruchu dlugopisem?
Pozwól swojemu dziecku odkryc swiat mozliwosci i wyobrazni
Te kolorowanki sa fantastycznym sposobem na zainteresowanie dzieci wspanialym i kreatywnym swiatem kolorowania, a jednoczesnie nauczenie ich podstaw obslugi przyborów do rysowania. To proste cwiczenie pomaga im rozwijac ich drobne zdolnosci motoryczne, gdy ich uwaga na nauke i uzywanie dlugopisu lub olówka jest najsilniejsza.
Kazda ksiazka zawiera 40 stron do pokolorowania. Kolorowanki w naszej dzieciecej kolorowance zawieraja proste, ale wystarczajaco skomplikowane wzory, które pomagaja nauczyc dziecko podstaw ruchu dlugopisu i olówka, a jednoczesnie oferuja mu swobode w doborze kolorów. Kiedy Twoje dziecko wypelni jedna z kolorowanek w naszej ksiazeczce, zalecamy wreczanie mu nagrody, która pobudzi jego kreatywnosc, a takze pobudzi chec do dalszego rozwoju.
Potrzebujesz wiecej powodów, aby nas wybrac?
W zestawie znajduje siÄ™ 6 plików pdf kolorowanek do pobrania
Nasze kolorowanki dla dzieci to Å›wietny sposób na nawiÄ…zanie wiÄ™zi z dziećmi i zrozumienie ich procesu twórczego przez rodziców i opiekunów.
Oferujemy zabawne doÅ›wiadczenie, które jest wciÄ…gajÄ…ce i pomocne w rozwoju Twojego maÅ'ego dziecka.
Kliknij przycisk "Dodaj do koszyka" i pozwól swojemu dziecku poznać podstawowe podstawy ruchu oÅ'ówka i dÅ'ugopisu w zabawny i wciÄ…gajÄ…cy sposób z naszymi kolorowankami, już dziÅ›!
SzczegóÅ'y techniczne
Ta książka zawiera 40 kolorowanek dla dzieci. Pomoże to Twojemu dziecku w rozwoju jego drobnych zdolności manualnych, umiejętności motorycznych i utrzymaniu uwagi.
W cenie tej książki otrzymasz również zgodÄ™ na bezpÅ'atne pobranie 6 innych książek z tej serii w formacie PDF. SzczegóÅ'y dotyczÄ…ce a) sposobu pobierania plików PDF oraz b) gdzie znajduje siÄ™ hasÅ'o, znajdujÄ… siÄ™ wewnÄ…trz książki.
Cechy książki
Miękka okładka
Strony kolorowe mogÄ… być drukowane przy użyciu dostarczonych plików PDF. Oznacza to, że Twoje dziecko może zacząć od nowa na nastÄ™pnej stronie, jeÅ›li sobie tego życzy. Rodzice i nauczyciele mogÄ… również w razie potrzeby wydrukować arkusze na grubszym papierze.
40 czarno-białych kolorowych stron
8,5 cala na 11,0 cala
Papier 200gms
Doskonały prezent
Information
Format:Paperback / softback
Pages:46 pages, 40 Illustrations
Publisher:Best Activity Books for Kids
Publication Date:04/03/2020
Category:
ISBN:9781800140097
Also in the Kolorowanka Dla 4-5-Latkow series | View all