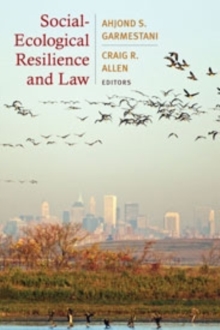 Social-Ecological Resilience and Law
Paperback / softback
Description
Environmental law envisions ecological systems as existing in an equilibrium state, reinforcing a rigid legal framework unable to absorb rapid environmental changes and innovations in sustainability.
For the past four decades, "resilience theory," which embraces uncertainty and nonlinear dynamics in complex adaptive systems, has provided a robust, invaluable foundation for sound environmental management.
Reforming American law to incorporate this knowledge is the key to sustainability.
This volume features top legal and resilience scholars speaking on resilience theory and its legal applications to climate change, biodiversity, national parks, and water law.
Information
Format: Paperback / softback
Pages: 416 pages, <B>Figures: </B>5,
Publisher: Columbia University Press
Publication Date: 25/02/2014
Category: Comparative law
ISBN: 9780231160599