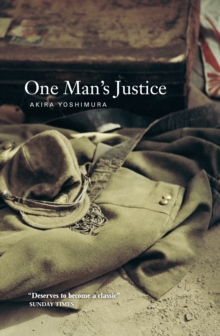 One Man's Justice
Paperback
Description
Hiroshima and Nagasaki have been destroyed. Japan is in ruins and occupied by the Americans. Takuya, an ex-officer in the Imperial Army, has returned to his native village only to learn that the Occupation authorities are intensifying their efforts to apprehend suspected war criminals. And those who are found guilty are being sentenced to death.
Fearing that his role in the execution of a number of American pilots, Takuya takes to the road and becomes a fugitive in his own country.
One Man's Justice is both a reflection on the murky reality of war and a page-turning novel of pursuit and escape.
Information
Format: Paperback
Pages: 288 pages
Publisher: Canongate Books Ltd
Publication Date: 28/06/2004
ISBN: 9781841954790
Free Home Delivery
on all orders
Pick up orders
from local bookshops
Reviews
Showing 1 - 1 of 1 reviews.
Review by Romanus
16/06/2015
"One man's justice is other man's injustice". While not denying the existence of an objective order of justice, the author shows how frequently, in practice, the notion of "what is right" is swayed by our subjective perceptions, and, consequently, how illusory one's moral self-image can be. The story follows Takuya Kiyohara, an officer of the Japanese Imperial Army, on the run from the occupying American authorities, because of his participation in the execution of American POWs. In the book we witness the moral breakdown – institutional, social, individual – of Japan after the defeat, and how the moral standards of a victorious America are perceived by the Japanese as shifting and questionable. Some reviewers have objected that the book has an anti-American bias, as seemingly stressing American excesses, while keeping silence about the Japanese atrocities during the war, and giving little development to the moral character of the American prisoners. But I don't think that there is a bias. The story is focused on the personal experience of one man, and the war is seen through his eyes: the American fire-bombing of Japanese cities, the Japanese medical experiments and execution of American POWs, the American war trials of the men that Takuya has known, and his own plight. What is beyond his immediate experience does not enter into the narrative – and what he experiences is enough for the book to make its point about morality. Takuya's character is believably developed; the prose is sparse, lyric in places, and still reads as a thriller. But it is far more than that: it is a powerful meditation on justice, on the horrors of war, and on what war does to a man's soul.