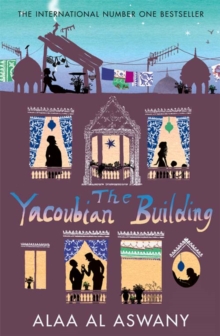 The Yacoubian Building
Paperback
Description
This exceptional Egyptian novel - as mesmerising as it is controversial - caused an unprecedented stir when it was first published in Arabic.Welcome to the Yacoubian Building, Cairo: once grand, now dilapidated, and full of stories and passion.
Some live in squalor on its rooftop while others inhabit the faded glory of its apartments and offices.
Within these walls religious fervour jostles with promiscuity; bribery with bliss; modern life with ancient culture.
At ground level, Taha, the doorman's son, harbours career aspirations and romantic dreams - but when these are dashed by unyielding corruption, hope turns to bitterness, with devastating consequences.Alaa Al Aswany's superb novel about Egypt's many contradictions is at once an impassioned celebration and a ruthless dissection of a society dominated by dishonesty.
Information
Format: Paperback
Pages: 256 pages
Publisher: HarperCollins Publishers
Publication Date: 01/09/2007
ISBN: 9780007243624
Other Formats
EPUB from £6.29
PDF from £6.29
Free Home Delivery
on all orders
Pick up orders
from local bookshops
Reviews
Showing 1 - 3 of 3 reviews.
Review by JadeBeecroft
16/06/2015
Reading the cast of characters listed at the front of this book I was initially crestfallen. How on earth was I going to remember all those details for all those people? Especially with such foreign-sounding names that I couldn't commit easily to memory.I needed have worried. Despite the fast pace and short snappy nature of this book, with each mini chapter jumping to a different scene with a different character much like a soap opera, one of its strengths for me was how vivid the personalities were and how easy it was to follow the web of stories that were woven around them.Another thing that I really liked about this book was there were no "good guys" and "bad guys", and in this way I found it very true to life. In so many books you are presented with flat, uninspiring characters that are clearly intended to be either loved or hated by the reader. But in The Yacoubian Building every one of the main characters was flawed, and yet at the same time I found that they were each likable in their own way.This was a romping read, fascinating from the first chapter and brutally honest in its portrayal of sex, religion, relationships, politics and cruelty. A 'warts and all' look at human nature that as well as being an insight into Egyptian life was surely relevant to every culture. I would recommend it to anyone.Finally, I found the references to scent intriguing. The smell of death, the scent of an old man, the perfume of a woman preparing for the arrival of her lover. An interesting thread that ran through the book and helped give the narrative an evocative extra layer.Great stuff!
Review by pokarekareana
16/06/2015
Hmm, well, where to begin? At least I made it to the end of this one, but I didn't particularly enjoy it. None of the characters were particularly likable; almost all of them are motivated wholly by sex (especially the women) money or religious fundamentalism. By the end of the book, I found I just didn't care what they did, or what happened to them. Two of the male characters were engaged in a homosexual relationship which didn't work out well; without spoiling the plot, I felt this was quite a negative depiction and wonder why Al Aswany chose to do this when it might have been more powerful to just leave it as it was earlier in the book.The premise of the book - to describe the interlinked lives of people living and working in a particular building - was a really great idea but I don't think it was executed very well. It took a long time for the story to get going, the characters' lives remained quite insular, and when I turned the page and discovered it was the end of the book, it all felt very anti-climatic and as if the story had just fizzled out to nothing.
Review by CharlotteN
16/06/2015
Very well translated - the English flowed as though that was the original language and didn't sound like a forced vernacular. I sometimes got a little confused with the sheer number of characters, and had to occasionally keep flicking back just to check what a character had been doing the last time we encountered him/her, so as to keep the lines of narrative clear in my head. I also sometimes found the politics and social commentary a little bleak - the poor were almost always kept at the mercy of the rich, and the weak at the powerful. The poor characters were never (except perhaps one or two towards the end) allowed a just victory over their suppressors, only a violent or dishonest victory, or else a defeat. I think that this was the social situation that the author was highlighting, and as such has drawn a successful portrait. Whether or not it is realistic, I do not personally know, having no great knowledge of modern Egypt; however, reading the novel as a grim satire of the author's homeland, I did get pulled into the narrative and associate with the characters.