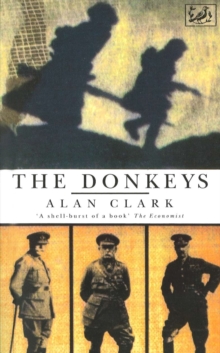 The Donkeys
Paperback / softback
Description
The landmark expose of incompetent leadership on the Western Front - why the British troops were lions led by donkeys On 26 September 1915, twelve British battalions - a strength of almost 10,000 men - were ordered to attack German positions in France.
In the three-and-a-half hours of the battle, they sustained 8,246 casualties.
The Germans suffered no casualties at all. Why did the British Army fail so spectacularly? What can be said of the leadership of generals? And most importantly, could it have all been prevented?
In The Donkeys, eminent military historian Alan Clark scrutinises the major battles of that fateful year and casts a steady and revealing light on those in High Command - French, Rawlinson, Watson and Haig among them - whose orders resulted in the virtual destruction of the old professional British Army.
Clark paints a vivid and convincing picture of how brave soldiers, the lions, were essentially sent to their deaths by incompetent and indifferent officers - the donkeys. 'An eloquent and painful book... Clark leaves the impression that vanity and stupidity were the main ingredients of the massacres of 1915.
He writes searingly and unforgettably' Evening Standard
Information
Format: Paperback / softback
Pages: 240 pages
Publisher: Vintage Publishing
Publication Date: 12/12/1991
Category: European history
ISBN: 9780712650359