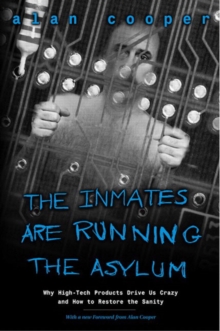 The Inmates are Running the Asylum : Why High-tech Products Drive Us Crazy and How to Restore the Sanity
Paperback
Description
Imagine, at a terrifyingly aggressive rate, everything you regularly use is being equipped with computer technology.
Think about your phone, cameras, cars-everything-being automated and programmed by people who in their rush to accept the many benefits of the silicon chip, have abdicated their responsibility to make these products easy to use.
The Inmates Are Running the Asylum argues that the business executives who make the decisions to develop these products are not the ones in control of the technology used to create them.
Insightful and entertaining, The Inmates Are Running the Asylum uses the author's experiences in corporate America to illustrate how talented people continuously design bad software-based products and why we need technology to work the way average people think.
Somewhere out there is a happy medium that makes these types of products both user and bottom-line friendly; this book discusses why we need to quickly find that medium.
Free Home Delivery
on all orders
Pick up orders
from local bookshops
Reviews
Showing 1 - 5 of 7 reviews.
Previous | Next
Review by adno
16/06/2015
A must read for anyone involved in hi-tech/software business. At first I hesitated whether to buy the book having already read Norman's The Design of Everyday Things. But the primary subjects are different: interface in the traditional sense versus what Cooper calls interaction - a higher level concept, but I'd say the books are complementary (for those who are interested in both, partially overlapping, subjects).This book will also give you insight into why Apple is so successful with their iPod (and will be with the iPhone) and why opensource software is inherently so unsuccessful in creating end-user products. (This is NOT mentioned in the book, just my conclusions.)
Review by clyde7
16/06/2015
The first book to read to get into interaction design.What I disapprove is the author's disrespect towards software engineers. The title says it all.
Review by Murdocke23
16/06/2015
 The book that introduced personas. Easy to read, and a great look into better ways to design a high-tech product.
Review by DocOnDev
16/06/2015
I was not particularly enamored with this book. Cooper spends the first eight chapters deriding developers in general and recounting failure after failure due to lack of UX/UCD in the process. While I suppose it was important at the time to stress the need for the solution, I felt it could have been done in a much more concise manner.The last several chapters are good and worth a read.You can skip the first several as long as you accept two things as "fact". 1 - developers are jerk and bullies who don't care about you and 2- projects with the wrong focus usually fail.
Review by jasoncashdollar
16/06/2015
An interesting book to read so long after its initial release. A lot of the problems Cooper discusses are still very real problems in today's companies. It is sad to see the resistance to change.There are somethings that have improved that Cooper obviously could not have predicted, so it is entertaining to read his suggestions for fixes and then what the actual fix was.