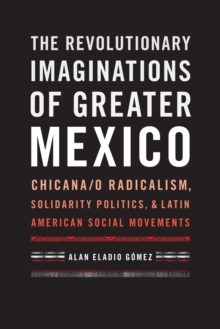 The Revolutionary Imaginations of Greater Mexico : Chicana/o Radicalism, Solidarity Politics, and Latin American Social Movements
Paperback / softback
Description
Bringing to life the stories of political teatristas, feminists, gunrunners, labor organizers, poets, journalists, ex-prisoners, and other revolutionaries, The Revolutionary Imaginations of Greater Mexico examines the inspiration Chicanas/os found in social movements in Mexico and Latin America from 1971 to 1979.
Drawing on fifteen years of interviews and archival research, including examinations of declassified government documents from Mexico, this study uncovers encounters between activists and artists across borders while sharing a socialist-oriented, anticapitalist vision.
In discussions ranging from the Nuevo Teatro Popular movement across Latin America to the Revolutionary Proletariat Party of America in Mexico and the Peronista Youth organizers in Argentina, Alan Eladio Gomez brings to light the transnational nature of leftist organizing by people of Mexican descent in the United States, tracing an array of festivals, assemblies, labor strikes, clandestine organizations, and public protests linked to an international movement of solidarity against imperialism.
Taking its title from the "greater Mexico" designation used by Americo Paredes to describe the present and historical movement of Mexicans, Mexican Americans, and Chicanas/os back and forth across the US-Mexico border, this book analyzes the radical creativity and global justice that animated "Greater Mexico" leftists during a pivotal decade.
While not all the participants were of one mind politically or personally, they nonetheless shared an international solidarity that was enacted in local arenas, giving voice to a political and cultural imaginary that circulated throughout a broad geographic terrain while forging multifaceted identities.
The epilogue considers the politics of going beyond solidarity.
Information
Format: Paperback / softback
Pages: 308 pages
Publisher: University of Texas Press
Publication Date: 06/09/2016
Category: History of the Americas
ISBN: 9781477310762
Free Home Delivery
on all orders
Pick up orders
from local bookshops
Also by Alan Eladio Gomez