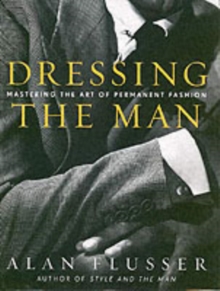 Dressing the Man : Mastering the Art of Permanent Fashion
Hardback
Description
Dressing the Man is the definitive guide to what men need to know in order to dress well and look stylish without becoming fashion victims.
Alan Flusser's name is synonymous with taste and style.
With his new book, he combines his encyclopedic knowledge of men's clothes with his signature wit and elegance to address the fundamental paradox of modern men's fashion: Why, after men today have spent more money on clothes than in any other period of history, are there fewer well-dressed men than at any time ever before?
According to Flusser, dressing well is not all that difficult, the real challenge lies in being able to acquire the right personalized instruction.
Dressing well pivots on two pillars -- proportion and color.
Flusser believes that "Permanent Fashionability," both his promise and goal for the reader, starts by being accountable to a personal set of physical trademarks and not to any kind of random, seasonally served-up collection of fashion flashes.
Unlike fashion, which is obliged to change each season, the face's shape, the neck's height, the shoulder's width, the arm's length, the torso's structure, and the foot's size remain fairly constant over time.
Once a man learns how to adapt the fundamentals of permanent fashion to his physique and complexion, he's halfway home.
Taking the reader through each major clothing classification step-by-step, this user-friendly guide helps you apply your own specifics to a series of dressing options, from business casual and formalwear to pattern-on-pattern coordination, or how to choose the most flattering clothing silhouette for your body type and shirt collar for your face.
A man's physical traits represent his individual road map, and the quickest route toward forging an enduring style of dress is through exposure to the legendary practitioners of this rare masculine art.
Flusser has assembled the largest andmost diverse collection of stylishly mantled men ever found in one book.
Many never-before-seen vintage photographs from the era of Cary Grant, Tyrone Power, and Fred Astaire are employed to help illustrate the range and diversity of authentic men's fashion.
Dressing the Man's sheer magnitude of options will enable the reader to expand both the grammar and verbiage of his permanent-fashion vocabulary.
For those men hoping to find sartorial fulfillment somewhere down the road, tethering their journey to the mind-set of permanent fashion will deliver them earlier rather than later in life.
Free Home Delivery
on all orders
Pick up orders
from local bookshops
Reviews
Showing 1 - 4 of 4 reviews.
Review by ManipledMutineer
16/06/2015
Well-written (although some find the writing overblown), carefully explained and sumptuously illustrated with a selection of original photographs and Apparel Arts/Esquire illustrations, this is an excellent and enjoyable resource for any clothing connoiseur as much as for the casual reader.
Review by PointedPundit
16/06/2015
True to the Twin Pivots: Proportion and ColorAs a web developer, I have recently had a run of men's custom tailoring customers. I found myself looking for an encyclopedic source of styling details and fashion fundamentals.In my mind the name Alan Flusser is synonymous with taste and style. This book gave me everything I needed to build websites designed to appeal to the male buyer of custom suits and shirts. Unlike the fashion buyer, Flusser believes permanent fashion starts with being accountable to a personal set of physical characteristics.The custom buyer's face's shape, neck's height, shoulder's width, arm's length and torso's structure, and the foot's size remain relatively constant. Once he relates the permanent fashion's fundamentals to his physique and complexion, he is on his way to building a stylish, cost-effective wardrobe that will withstand fashion's seasonable vagaries.This book contains a large collection of photographs of stylish men. These vintage photographs illustrate the range and diversity of authentic men's fashion. Along the way, magnitude of options will equip the reader with both the vocabulary and options required to build a custom wardrobe. There is even a glossary at the end of the book to help with the journey.My needs were unique, I admit. This book equipped me with the knowledge, detail and options required to build a website that appeals to buyers and the purveyors of custom men's clothing.
Review by tyroeternal
16/06/2015
While this book did not quite live up to my expectations, it was quite well done. The sheer number of illustrations and descriptions should earn this book some interest from anyone interested in understanding how to shop. While it did not contain any major revelations, I found it to be helpful and informative in how to go forward with building a wardrobe.
Review by bongo_x
16/06/2015
An excellent guide to menswear.<br/><br/>He refers to "permanent fashion" and that's what he means. This is all about the classics with only a small portion at the end dedicated to work casual contemporary clothing. A large part of the examples he gives of great style are from the 30's and 40's. I think he's correct in doing this, not only because those men (and women) obviously dressed better than most people today, but those looks are for the most part are timeless. You may not want to dress just like Cary Grant, but you might want to know why he looked so good doing it. The book is very conservative in approach, but helps to know the basic rules even if you're going to break them. <br/><br/>The main part of the book concerns suits, what looks good on who, why things are styled the way they are, what to avoid, etc. There are some really great insights here. There are also sections on formal wear, accessories, shoes, and pretty much everything you can think of. <br/><br/>Flusser writes with humor, and is not shy with his opinions. I recommend it, even if you're not planning on using it as a guide to dressing.