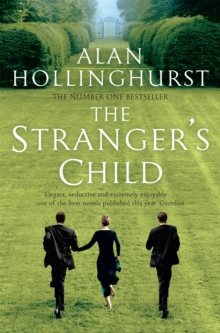 The Stranger's Child
Paperback
Description
The Stranger's Child is Alan Hollinghurst's Sunday Times Novel of the Year.
In the late summer of 1913, George Sawle brings his Cambridge friend Cecil Valance, a charismatic young poet, to visit his family home.
Filled with intimacies and confusions, the weekend will link the families for ever, having the most lasting impact on George's sixteen-year-old sister Daphne.
As the decades pass, Daphne and those around her endure startling changes in fortune and circumstance, reputations rise and fall, secrets are revealed and hidden and the events of that long-ago summer become part of a legendary story, told and interpreted in different ways by successive generations.
Powerful, absorbing and richly comic, The Stranger's Child is a masterly exploration of English culture, taste and attitudes over a century of change.
Information
Format: Paperback
Pages: 576 pages
Publisher: Pan Macmillan
Publication Date: 01/03/2012
ISBN: 9780330483278
Other Formats
Paperback from £8.59
EPUB from £7.98
Free Home Delivery
on all orders
Pick up orders
from local bookshops
Reviews
Showing 1 - 4 of 4 reviews.
Review by MarthaJeanne
16/06/2015
Boring. Hard to figure out who and when and where every time he starts a new chapter. And in the end nothing happens and noone's charcter is developed.
Review by lxydis
16/06/2015
Started and finished this book in less than a weekend--it's been a long time since I've lost myself in a book that way, and it was a great pleasure.<br/>Those who liked Atonement I think will also like this; TSC is reminiscent of Atonement in both its period sweep (taking place in the same era, TSC also spans almost the whole 20th century) and its coming-of-age and discovery of sexual secrets, including the evocation of adolescent fervor and self-centered naiveté. I loved Atonement myself, but I would say TSC is possibly even better, in that it has all the elements of a brilliantly evoked story, well drawn characters and the historical novel aspect that British writers so excell at, BUT without Ian McEwan's knowing, ironic cleverness (I can understand why some readers don't take to McEwan) which is why I think people who did NOT like Atonement would also like this book.<br/>It's also nice to see a sympathetic central character who is a woman, and a book that's so broadly good while still sharing with other AH novels his preoccupations with sexuality and gay politics, written, as always with AH, skillfully and beautifully. I hate when books are labeled "gay" or are overtly "political" and simplistic, and I can say that ASC is quite simply an excellent novel.<br/>The only complaint I have reinforces what a good writer AH is: you want more of each of the characters/stories in each time period. Even as you get towards the end of the book, it's always with a bit of surprise and disappointment you realize that you've moved forward yet another 10 or 20 years and have to meet someone new. But, every time, AH manages to get you totally involved with each new person and eager to find their connection to the central characters that you started the book (and the century) with.<br/>Some reviewers have compared this to ASByatt's Possession, which is a stretch--I guess the themes of literary discovery, memory and recording etc--but other than that they're very different. I suppose if you like ASB in general--as a 3rd person, british novelist of "traditional" narrative--you will probably like AH too. I adore ASByatt myself but Possession is my least favorite novel of hers, as it has some of the affected contrivedness of he worst of Ian McEwan, which can be hard to take.<br/><br/><br/>
Review by sianpr
16/06/2015
I didn't enjoy this book as much as I thought I would at the outset. The opening parts kept me involved in the story of Cecil, a minor poet killed in WW1, & his effect on the lifes of the Sawle family - both George, who has a clandestine gay relationship with Cecil, & his sister Daphne who also has some sort of teenage crush/ relationship with Cecil. Basically, Cecil isn't fussy where he gets it. Cecil's destructive effect on the Sawle family is used to hang the plot through the 5 parts of the book & a whole host of characters who become interested in Cecil as a poet and closet gay. The book takes us from the early to late part of the 20th Century & charts the change in social attitudes and law with regard to homosexuality. The problem is that none of the characters who inhabit this book are particularly appealing and it was hard to understand why anyone would be that interested in Cecil and what he got up to with all and sundry. Promiscuous poets are hardly anything new. So while there is some great writing, it left me thinking 'so'? Guess I'm also a bit bored with reading about the upper middle classes & their country houses in Edwardian England that do little to critique the social relations of the day...
Review by AlisonY
27/08/2015
I've had this novel on my shelf for a couple of years now, somewhat avoiding it as I loved [The Line of Beauty] and enjoyed (to a slightly lesser extent) [The Swimming-Pool Library]. [The Stranger's Child] got very mixed reviews after it was published, and I was afraid it might spoil my good Hollinghurst run.As it turned out I really enjoyed it. An epic of a family saga, [The Stranger's Child] covers almost a century of family revelations all stemming from the brief but unforgettable life of Cecil Valance, the charismatic and rakish poet of the family who was killed in the First World War. Despite dying at a young age, his legacy permeated the family for years to come, with Hollinghurst very cleverly using the ongoing literary interest in his poetry - and the secrets of his private life - as a way to link together the family stories throughout the decades.Like all Hollinghurst books, much of the story revolves around the homosexual relations between a number of the central characters, but this gives an interesting alternative narrative to the usual typical upper class country house saga, particularly in the first half of the book covering the pre and post war periods (although somewhat unbelievably there seemed to be hardly a straight man amongst them despite almost a century of marriages).It's not a perfect book - there were parts in the middle of this longish novel where my attention waned - but in all it's an interesting tale of family debauchery and broken relationships, and as ever I enjoyed Hollinghurst's style of prose. Paul, the main protagonist for the second half of the book, was an intentionally dull character, and I felt his dullness unfortunately permeated the story a little, but still the last 150 pages or so had me gripped.It's not easy to pull off an epic style book, but I think Hollinghurst just about managed it.