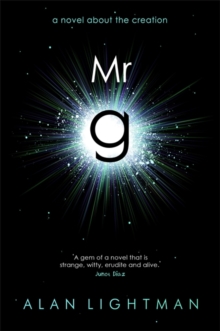 Mr g : A Novel About the Creation
Hardback
Description
"As I remember, I had just woken up from a nap when I decided to create the universe." So begins Alan Lightman's playful and profound new novel, Mr g, the story of Creation as narrated by God.
Bored with living in the shimmering Void with his bickering Uncle Deva and Aunt Penelope, Mr g creates time, space, and matter-then moves on to stars, planets, consciousness, and finally intelligent beings with moral dilemmas.But even the best-laid plans can go awry, and Mr g discovers that with his creation of space and time come unforeseen consequences-especially in the form of the mysterious Belhor, a clever and devious rival.
As Mr g watches his favorite universe grow into maturity, he begins to understand how the act of creation can change the Creator himself.
Information
Format: Hardback
Pages: 256 pages
Publisher: Little, Brown Book Group
Publication Date: 01/05/2012
ISBN: 9781780333786
Other Formats
eAudiobook MP3 from £11.72
EPUB from £1.99
Free Home Delivery
on all orders
Pick up orders
from local bookshops
Reviews
Showing 1 - 1 of 1 reviews.
Review by lkernagh
16/06/2015
What would you do if you were to wake up from a nap, bored? When this happens to Mr. g, he decides that the boredom needs to be addressed. To the stern admonishment of his Aunt Penelope and the bemused but otherwise uncommitted response of his Uncle Deva, Mr. g decides to create the universe. This playful examination of creation <i>a la</i> Lightman requires the reader to check their belief systems - religious, moralistic, philosophical or hard core scientific - at the door and allow Lightman to take them on a journey. A journey that starts with an impulse by Mr. g to do 'something' which leads to the creation of time, then space and matter and from there right on to quantum physics and so on and so on........ As with real life, Mr. g's project hits interesting stumbling blocks, experiments that go awry, bouts of indecision and even the discovery that the project has taken on a life of its own. The mysterious Balfor (and his rather nasty creature Baphomet) round out the cast and provide Mr. g with an intellectual equal for debates of moralistic and philosophical nature.Alan Lightman, a humanities and physics professor at MIT that has be involved in ground breaking research in astrophysics puts life - no pun intended - into his unique presentation of the creation of the universe, astophysics and morality. While one may question the inclusion of an Aunt Penelope and Uncle Deva in a story of such magnitude, told from the point of view of God, I found they were excellent fodder for providing the story with lighthearted portrayals of familial relationships, encouragement and guidance that readers can relate to while tackling such a heady topic. It is amusing to envision Aalam-104729, as our universe is called in the story, as something that can be mislaid and then picked up in the great expanse of the Void, much like a beach ball.For the most part I enjoyed this story. In particular, I loved the discussions/debates Mr. g had with his aunt and uncle over his project and how the development of the project was influencing them. On the downside, I wasn't really taken with the last quarter of the book which really delved into the moralistic and philosophical discussion, which has lead to my downgraded rating for this one.Overall, a short fun story that should appeal to both scientific and non-scientific readers.